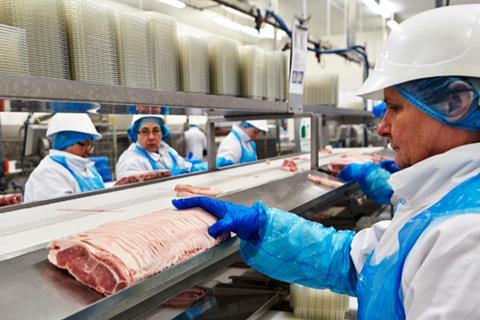 Cranswick has joined an Amazon-led commitment to meet the goals of the Paris Agreement on climate change a decade early, as it seeks to become the world's most sustainable meat business.
The major pork supplier joins the likes of Unilever and Microsoft in signing up to The Climate Pledge – an aim to have net zero carbon emissions by 2040.
It said it would work to decarbonise the farms it owns as well as reduce wastage of food and resources throughout its supply chain by 2030. The firm has also committed to ensuring its sourcing is deforestation-free.
Amazon's commitment, which the online giant co-founded in 2019, also calls on signatories to measure and report on greenhouse gas emissions on a regular basis.
Cranswick's CEO Adam Couch said the move would play "a critical role" in enabling the meat supplier to be a "positive influence" on the food industry.
"At Cranswick, we're committed to running a responsible business across our operations and that includes prioritising sustainable practices," he said.
"We want to be part of the solution to climate change and help inspire positive change across the broader value chain."
Cranswick said it had already made "significant progress" towards becoming more climate-friendly since 2018, having reduced edible food waste by 61% to 0.4% of its total production and removing 1,200 tonnes of plastic. It also said it sources all of its grid-supplied electricity from renewable sources.
Last year, its Milton Keynes cooked meats plant became the company's first facility in the UK to be certified as carbon neutral.