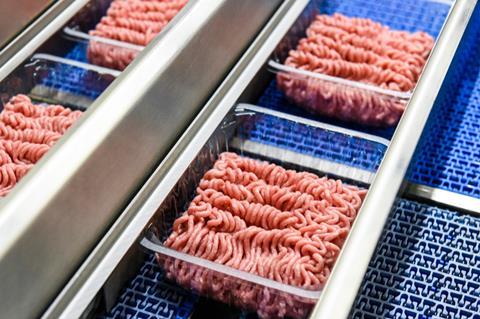 Pork giant Danish Crown has unveiled plans to become the "world's leading producer of sustainable meat", aiming for 90% of pigs slaughtered at its Danish abattoirs to come from certified sustainable farms by the end of this year.
On its way to achieving climate-neutral status, Tulip owner Danish Crown expects to halve its climate footprint per kg of pork between 2005 and 2030. It had already shaved 25% from its emissions in the 11 years to 2016, of which 18 percentage points came from carbon reductions in agriculture supply chain, it claimed.
Group CEO of Danish Crown, Jais Valeur, said pork had "unjustifiably been in the firing line" on climate impact. However, Danish Crown would change that narrative, with an easily communicable concept, "which is going to win the support of consumers" whose choices would drive the transition, he said.
The group is in the process of setting up sustainability projects across the business, tackling issues from energy and water consumption to packaging and transport solutions.
"We now know that we could have been talking about sustainability from as early as the mid-2000s," added Valeur.
"We cannot turn back the clock, but the results are there for all to see. We believe that we're going to see a huge market for sustainable meat in the future. We want to capture this market and create a brand as the most sustainable producer of meat-based food products."
Its carbon neutral commitment is set to cover all its businesses, including beef and veal production. Though Danish Crown is yet to finalise its climate goals for beef and veal, it said they would be "closely aligned" with the goals being set for its sustainability certification on pork.
Potential partners had jumped at the chance to collaborate with the business to build its sustainable development, said Valeur. Its ultimate partners would help it implement initiatives to enable the company to achieve its climate and sustainability goals, while developing the business for the benefit of its farmer-owners, he added.