Plant-based. Flexitarian. Meatless Mondays. Whatever way you spin it, meat reduction is in vogue. But the biggest threat to fresh meat sales isn't coming from people consciously choosing to eat less meat, according to AHDB research. Instead, 99% of pre-pandemic losses stemmed from 'unconscious reducers'.
Rather than consciously ditching burgers and bangers due to ethical, environmental or even health concerns, these shoppers are unconsciously buying less meat when shopping because they aren't finding enough inspiration in the meat aisles.
In a bid to address this problem – and ensure the category doesn't suffer from a post-pandemic sales slump – levy body AHDB has just completed a major research project to understand how supermarkets can get shoppers more engaged with the meat aisles. So what did it find? And why does it matter?
Despite the ongoing obsession with plant-based, 99% of British households still buy into the fresh meat, fish and poultry category, Kantar data shows. Indeed, the category is still hugely valuable for supermarkets, accounting for 14% of total grocery spend [Kantar].
So the pre-pandemic decline in meat sales was a major concern. By February 2020, fresh MFP had lost 1.3% of its volume from its peak in November 2018, the AHDB report reveals. For red meat, the picture was even starker, with sales falling 2.5% year on year.
Covid-19 has given the category a temporary reprieve. Fresh meat and poultry sales surged 8.1% in the 52 weeks ending 9 August [Kantar] as Brits returned to the kitchen and sought comfort in familiar dishes like shepherd's pie and sausages and mash. "People were also at home more for breakfast and lunch occasions, which benefitted sales of some cuts like sausages and bacon," says Kim Malley, senior retail insight manager for AHDB.
However, while sales remain significantly higher than they were in 2019 across all meat categories, they've begun to dip again as hospitality venues open and Brits return to the office. If the sector wants to hold on to recent gains, it's going to have to work hard to engage shoppers again.
"71% of unconscious reducers do not enjoy or are indifferent when browsing the meat aisle, and 69% claim it lacks inspiration"
When AHDB set out on its latest project, it was already clear from existing research that a lack of inspiration in the meat aisles was the biggest barrier to growing meat sales. "Our research found 71% of unconscious reducers do not enjoy or are indifferent when browsing the meat aisle, and 69% claim it lacks inspiration," says Malley.
What was less clear was exactly what information would help drive sales. "That is what this research was about," says Malley. "Defining the messaging and imagery that would drive more purchase and improve perceptions of the category."
Defining the category
Working with meat processors and the wider industry, AHDB came up with 29 messaging concepts across four main themes important to shoppers: meal inspiration, health, environment & sustainability and British farming. It commissioned Linney Insight –an agency that specialises in shopper research – to test these concepts in a three-stage process that included an online survey of 1,000 consumers and virtual reality shopping exercises with 4,0000 shoppers.
The research revealed the pathway to increasing in-store meat purchases was more complicated than anyone had foreseen. "There is not one silver bullet when it comes to what you say in-aisle," says Malley. "We found different messaging and images were needed to a) get people into the aisle, b) get them engaged with the fixture and c) to pick up a product and put it in their basket."
When it came to attracting people into the aisle, inspiration was key, the research found. "This was all about strong foodie images and confidence building in terms of meal preparation," Malley explains.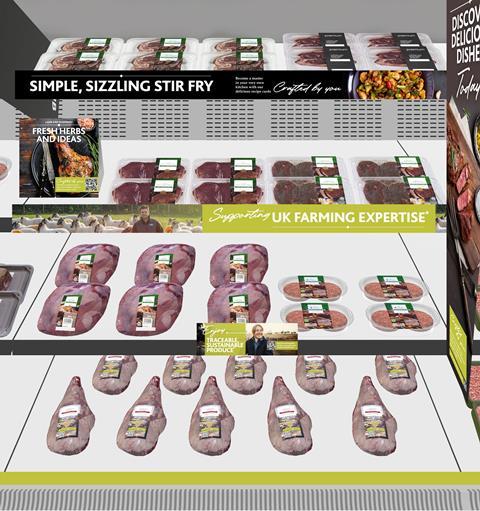 But once people got to the meat aisle, they needed to be reassured about the industry. "Farming became really important at fixture," says Malley.
Supermarkets should focus on the fact red meat from the UK has lower emissions than other countries and is among the most sustainable in the world, the AHDB study suggests. "This gave shoppers a degree of reassurance, with 69% feeling positive about the meat aisle, significantly higher than the average for environment and farming concepts," it says.
Retailers should also show how they are working with farmers and supporting them, the research says. "What really resonated with people is British farming expertise, which inadvertently communicates quality – something we know is important," Malley adds.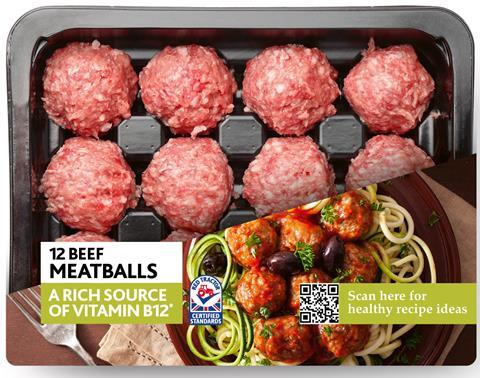 But AHDB found consumers still needed a final bit of reassurance to pick up a meat product and put it in their basket, which is where health came in. "Health can cover loads of areas but we found the one that particularly resonated with people was one that had a tangible benefit, which was B12 for red meat," says Malley.
Supermarkets are, of course, already experimenting with messaging around farming, health and meal inspiration. But none have yet combined all three in this way, AHDB claims. "There are pockets of innovation but nobody has gone as far as to elevate the whole protein offer and that represents an exciting opportunity," says Carrie McDermid, senior account manager at AHDB.
Doing so holds "universal appeal" and will work regardless of where shoppers usually buy their meat – supermarket, discounter, premium or convenience, according to AHDB.
"Now, it's about the retailers and processors taking these insights and adapting it to fit with their particular brand," says Malley. "Lidl would do something very different to M&S, for example."
The research has been well received by meat processors, who were concerned meat aisles were boring and bland compared to other areas in the supermarket, such as plant-based alternatives.
"Now, it's about the retailers and processors taking these insights and adapting it to fit with their particular brand"
"The consumer research including the virtual reality was incredibly innovative and provides the type, and crucially the standard, of insight we've not had before," says Alex Skidmore, head of insight at Dalehead Foods.
"We will use this insight to elevate the beef and lamb offer in store to benefit both our farmers and our retailers," adds Elaine Willis, retail director of Linden Foods. "It will allow us to further showcase the great product we produce."
Retailers have also been receptive to the research, says McDermid. "We've begun to engage retailers and it's been really positively received," she adds. "There have been some positive discussions around trials, we are working on how we develop and progress those."
It's certainly well timed. Retailers are currently reviewing their own strategic plans around health, sustainability and farming, while shoppers are still preparing more meals from scratch and looking for inspiration. "We've seen a positive experience in retail during the pandemic and we want to continue that story going forward, rather than potentially going backwards to the downward trend we had stated to see before Covid," says Malley.
With so much grocery spend at stake, supermarkets would be wise not to ignore the opportunity to rejuvinate the meat aisle. Plant-based might be stealing shelf-space, but it's too early to take red meat off the menu.
The most effective POS
Aisle fins were the best at drawing people towards the aisle.
Eye-tracking exercises suggested they recorded a level of fixation of 79% vs an average 41% for all assets
Header boards also proved important, with recall at 33% versus an average of 21%
When it came to activation at shelf, space savers – which literally fill space on the shelf – performed particularly well
Larger shelf strips – which ran with one clear message – were more effective than smaller ones


Carina Perkins is editor of thegrocer.co.uk

Carina is responsible for running and developing The Grocer's digital operations. She commissions high-quality digital journalism from our award-winning editorial team and thought-provoking comment from industry players.

Follow Carina on Twitter: @CarinaPerkins