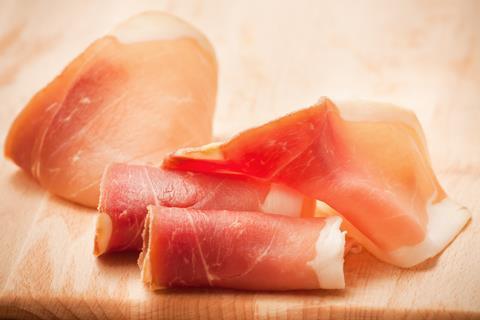 Parma ham has announced changes to its production regulations to elevate its quality and health benefits while ensuring transparency and authenticity.
To be more health-conscious, the Parma Ham Consortium has focused on reducing its salt content, from 6.2% to 6%, during the production process to align with contemporary diet preferences.
The brand has also extended the minimum curing period from 12 to 14 months to further emphasise the expected flavour of the product.
The consortium said its "commitment to excellence is highlighted by these changes, ushering in a new era of elevated flavour, and health-consciousness, while valuing tradition".
In addition, the board has also redefined the list of permitted genetic types of pigs for its Protected Designation of Origin production circuit. The Parma ham heritage now spans 11 distinct regions of pig origin, with the addition of Friuli-Venezia Giulia.
All potential new genetic types seeking admission will undergo rigorous eligibility evaluations, reinforcing the brand's dedication to maintaining the highest quality standards.
Additionally, Parma ham has transitioned from average live weight to individual weight evaluations with a minimum of 110.1kg and a maximum of 168kg.
This introduction of precise weight assessment criteria has ensured consistency in product quality and portioning and has guaranteed that every slice of Parma ham meets the brand's standards.