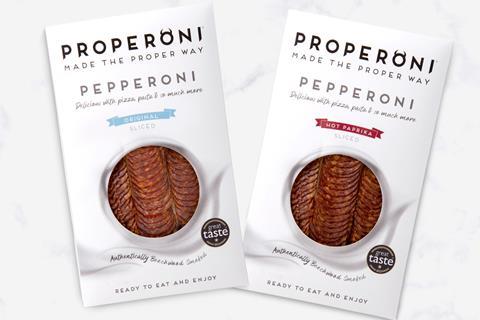 Properoni has announced a first major retailer listing for its premium pepperoni range.
The Estom-owned brand has been used in pizza restaurant chains for over 50 years, but will now become available in 416 Tesco stores from October.
Its Classic and Hot Paprika flavours (rsp: £3/80g) will be available alongside its new Chorizo Classic sausage pairs (rsp: £3.60/180g), in a key development for the brand to reach more consumers.
"Pepperoni is constantly cited as the nation's favourite pizza topping," said Properoni MD Tom Horvath Neumann. "However, although we have supplied the finest pepperoni to leading restaurant chains for decades, this quality of product has never been made available to consumers in grocery retail."
Horvath Neumann described how the company hoped to drive innovation and premiumisation by acting as a disruptor in the category.
"Properoni is significantly superior to existing products on the market, with a better taste and flavour profile and a contemporary, premium pack that will stand out from a sea of plastic trays," he claimed.
It was awarded a Grocer New Product Award in 2022.
The launch follows two key hires at Estom, including the appointment of Nigel Trood as non-executive chairman and Leah Cooper as commercial director.
Trood has spent time working for Britvic, Sainsbury's and Fresca Group, and will be supporting Properoni in establishing it as a leading consumer brand.
Cooper has experience within top four grocers in branded and own label products and spent 15 years at Winterbotham Darby in a variety of roles.
"I am delighted to welcome both Nigel and Leah to the team, adding significant expertise in retail and branded arenas as we look forward to championing the category and driving growth," said Horvath Neumann. "To date, we have driven trial, built awareness, customer base and loyalty. Now, with Tesco, we wish to drive scale, widen our customer base, and accelerate growth."