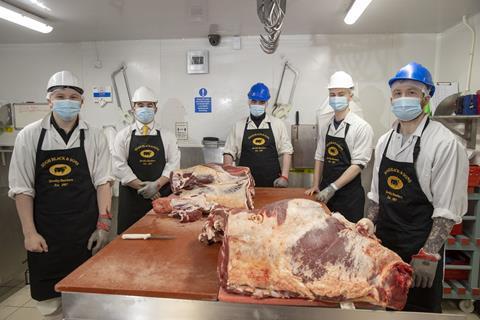 Women and young people are among those being targeted in a new campaign aimed at attracting more people into the butchery sector.
The initiative by Quality Meat Scotland in partnership with Skills Development Scotland will showcase 750 potential vacancies and flag the career path as a chance to learn a craft as well as develop skills from traditional techniques to those that use cutting-edge technologies.
The push will highlight the business side of the trade, from the selection of products and product development to learning about the supply chain, recipe development, pricing, profitability and customer service.
As part of the activity, case study videos featuring different job roles within the industry will be promoted, alongside social media adverts which will be shared across platforms including Facebook, Instagram and Snapchat, QMS said.
A new careers website, butcherycareers.co.uk, has also been launched to support the campaign and help potential candidates learn about training opportunities, read and watch the real stories of young butchers' careers and explore job postings.
"Butchery is one of the oldest crafts in the world with genuine heritage and traditions, but we want to show that it can also provide an exciting, pioneering and highly skilled career for young people today," said Gordon Newlands, Quality Meat Scotland brand development manager.
"At a time when we are all conscious of skilled labour shortages, butchery presents a huge array of excellent career opportunities. This is a trade where innovation meets tradition to create an industry full of character and camaraderie that will play a critical role in our social and economic future."
Gerry McBride, strategic relations manager at Skills Development Scotland, said the project has been built to show how much butchery had to offer young people as "an exciting career choice with huge opportunities for progression".
"We strongly believe that butchery represents a field that is more than just a job, it is an innovative and evolving craft that can unlock a range of exciting careers," he said.
"A modern apprenticeship in this field is a chance for young people to be trained by industry experts, gain a nationally recognised qualification and earn a real wage while they learn. Apprenticeships also offer a unique opportunity for employers, enabling them to recruit from a fresh pipeline of young talent."
The programme, which is also raising awareness of the government funding opportunities available to businesses employing young people, comes amid a shortage of butchers and a serious shortfall of skilled positions.
According to QMS, the average age of a butcher in Scotland is 60, while females currently represent 14% of current apprentices in the sector.