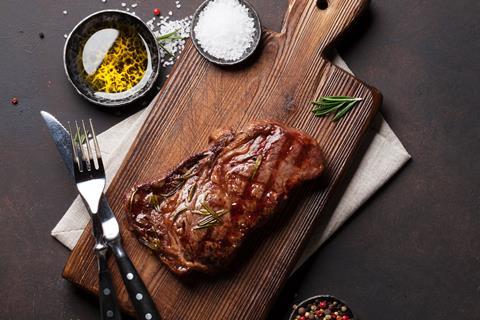 A promotional push on beef cuts and the launch of a new meat range consisting of beef destined for foodservice has helped drive a 40% year-on-year surge in demand for steaks at Tesco.
Processors warned in April that an increase in demand for beef mince from locked-down shoppers was creating a carcase balancing crisis in the sector – with mince sales up 45% at the height of coronavirus panic buying [Kantar 4 w/e 23 March].
In response, Tesco moved to put these cuts of beef on discounted sale and worked with processing partner Foyle Food Group to create a new brand called The Meat Folk in April, which featured three lines of two-pack steaks with choices of either rump (£5), sirloin (£6) or fillet (£7).
The move has now been hailed as a success by the retailer, and made a significant contribution in averting a worsening in the crisis, it claimed.
"It has not only helped beef farmers and processors across the UK and Ireland, but also given shoppers a taste of luxury for less than they would normally pay," said Tesco beef and specialty meat buying manager Becky Huxter.
"With restaurants and pubs closed since lockdown began many shoppers have been trading up and treating themselves to some of the foodie luxuries they might have eaten had they been going out to dine," she added.
"Having the extra supplies has also meant that we have been able to meet the additional demand, which was boosted by the warmest spring on record and a clamour for barbecue foods."
The shutdown had dealt a "serious blow" to processors and suppliers, said Foyle Food Group commercial director Karen Kelso. "For us it meant no other outlet for steak meat sales."
But Tesco's actions helped to "sustain the future for the British and Irish beef industry", she added.
"The Meat Folk brand has provided nearly a million plates of steak for shoppers which would have otherwise ended up in lower-value cuts."