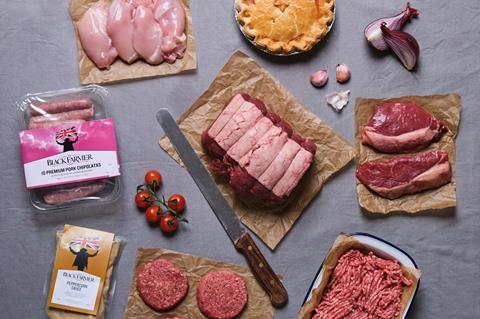 The Black Farmer has launched a DTC meat box containing produce sourced from the West Country in a bid to tap into heightened demand for delivery services during Covid-19.
Available from the brand's website and coming in three variants of different size and quality – starter (£50), premium (£75) and luxury (£100) – the boxes are said to offer free-range, grass-fed meats and local deli produce.
Consumers also have the option of building up their own boxes from a selection of different cuts and pack sizes of beef, lamb, pork or chicken, as well as products such as cooked meats, pies and quiches.
"I am really excited as this is the fruition of a long-held ambition of mine," said founder Wilfred Emmanuel Jones.
"Direct-to-consumer business has seen huge growth during Covid-19 and it's something I have always wanted to get involved in. Before this, there have always been particular challenges as people were not at home to accept deliveries.
"Now with more people working from home, it's much easier to get fresh produce to their door and has allowed me to go into this fast-growing arena."
Customers would also be able to order The Black Farmer's new beer and cider – launched to mark Black History Month – through its new DTC channel.
The brand also marked the commemorative month with the launch of two limited-edition Caribbean-inspired sausages featuring the faces of black British heroes Mary Seacole and Lincoln Orville Lynch. Emmanuel-Jones has campaigned for several years for greater racial diversity across the grocery sector.