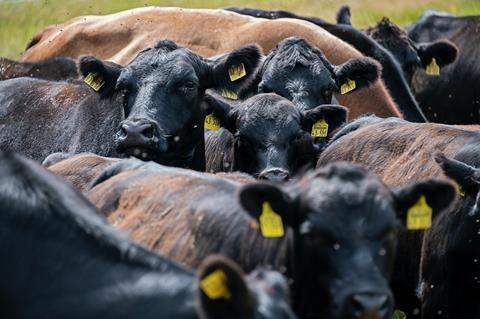 Trade experts sought to calm panic on British farms this week after it emerged the UK was preparing to offer Australia tariff-free access to British food markets.
The British government is reportedly locked in an internal battle over the terms of the deal, according to the Financial Times, with Boris Johnson and trade secretary Liz Truss said to back plans to give Australian goods tariff and quota-free access to the UK market, phased over 10 to 15 years.
However, the reports sparked a backlash from farmers who fear the competition implications of such a deal. NFU president Minette Batters said British farms faced "irreversible damage" if Australia was granted zero-tariff access.
A senior farming source branded the plans "catastrophic". They feared opening the doors to the world's biggest beef exporter would be a "more fatal blow than BSE" and could crash the UK meat market, regardless of current retailer sourcing commitments to British and Irish beef.
Yet trade experts and analysts suggested the reality was unlikely to be so clear cut.
While much has been made of Australia's ability to produce cheaper meat, its beef tends to be exported to China, Japan and the US at higher prices than the UK now imports, according to AHDB data.
Australia sells fresh boneless beef to China, for example, at around £8/kg, while the UK buys from Ireland at less than £5/kg, the data shows. "We can't say for sure but it's not clear to me that the UK will become the market of choice for 'cheaper' beef," said AHDB lead analyst Duncan Wyatt.
Sam Lowe, a trade specialist at the Centre for European Reform think tank, similarly questioned the premise that dropping tariffs on Australian food would lead to floods of cheap meat on UK shelves.
"What if Australian exporters are happy selling all over Asia?" he said in a trade newsletter this week. "And what if Australian exporters want to sell their higher-end food products to the UK, not the cheap stuff? And what if Australian imports are just as likely to displace EU food imports?"
There remain numerous question marks surrounding the potential deal and its impact on domestic competition. But while British farmers already striving to adapt to life outside the EU are concerned about the deal, some suggest the true risk has been potentially overstated.
Overstated
"Almost everything you hear about trade's impacts on farmer livelihoods is hyperbolic or abstract," said Dmitry Grozoubinski, founder of consultancy ExplainTrade. "It is really, really complicated to calculate how much increased or competition tariff elimination would actually mean for a Welsh lamb farmer or a Scottish beef farmer."
In a letter seen by The Grocer this week, Australia's high commissioner George Brandis wrote to MPs on Wednesday with reassurances over the potential deal. Refuting claims the country was keen to find new markets for excess meat, he said all its beef and lamb was either consumed domestically or exported to existing customers.
"There is no significant excess capacity because, to put it very simply, almost all of Australia's exportable beef and lamb is already spoken for."
Nonetheless, concerns remain any deal would set a precedent for future negotiations with countries such as the US and Brazil. The UK Farming Roundtable, a group made up of organisations representing farmers and growers, said this week that concessions such as tariff reductions would "be demanded to an equivalent degree by future trading partners seeking FTAs."
"Equally," it continued, "strong commitments in areas like animal welfare and climate change will make it easier to secure similar commitments with other partners in future."
A spokeswoman for the Department for International Trade said any free trade agreement would "include protections for the agriculture industry and will not undercut UK farmers or compromise our high standards".
She added: "Typically, any tariff liberalisation is staged over time, with safeguards built in. Australian meat accounts for a very low proportion of total UK imports, and is produced to high standards.
"We will continue to work with the industry, keeping them involved throughout the process and helping it capture the full benefits of trade."