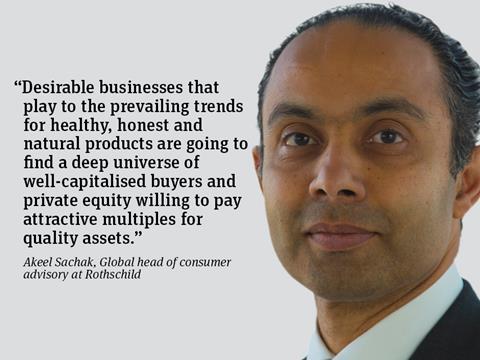 As 2017 draws to a close, we can wave goodbye to another buoyant year for M&A activity. It proved not to be quite as seismic as looked likely when we first heard about the Kraft Heinz approach to Unilever. The suddenness with which that appeared and then the speed with which it went away took most of us by surprise. While the bid never materialized, it sent shockwaves through the global consumer sector and created a much greater sense of urgency among food majors to attack their cost base and bite the bullet on underperforming businesses.
Even without a deal of that magnitude, M&A in the consumer space remained very active over the last 12 months with larger activity denoted by deals such as Reckitt Benckiser's $16.6bn acquisition of Mead Johnson, JAB Holding's $7.5bn acquisition of Panera Bread and Essity's €18.3bn spin off from SCA. Each of these deals showed a consistent appetite from corporate stakeholders to opportunistically acquire substantial assets, along with a desire for many larger corporates to focus on core activities and portfolio optimisation as evidenced by Reckitt's sale of its food business to McCormick for $4.2bn. Unfortunately for us, we advised Pinnacle, the eventual underbidder to McCormick on this one. Along similar lines, both Unilever and Nestle are pregnant with divestitures of underperforming businesses of significant size.
The luxury space within consumer was particularly active with several transformational transactions in the last 12 months. The year started with a landmark combination between Essilor and Luxottica that created a €47bn global eyewear powerhouse and turned out to be the largest consumer deal in Europe.
Whilst there are clear challenges to the business environment, these have and will, continue to create opportunities for companies to make acquisitions that help them to better compete in the environment such as consolidation to achieve economies of scale or product diversification to address rapidly shifting consumer needs. There is no doubt that the aftermath of the Brexit vote still poses a degree of uncertainty but we continue to operate in a low interest rate environment supported by favourable public markets and plenty of access to public and private capital and hence I believe that next year could offer even more interesting opportunities within the M&A space.
Consumer has always been a resilient sector. The industry has been encouraged by demanding consumers and sophisticated manufacturers, as well as continued market pressure to show top and bottom line growth, further fueled by more aggressive activism and accelerating innovation. Desirable businesses that play to the prevailing trends for (amongst others) healthy, honest and natural products and businesses that have obviously been undermanaged in larger parents with other priorities and pressure to improve their own growth profiles, are going to find a deep universe of well capitalised buyers and private equity willing to pay attractive multiples for quality assets.
Akeel Sachak, global head of consumer advisory at Rothschild