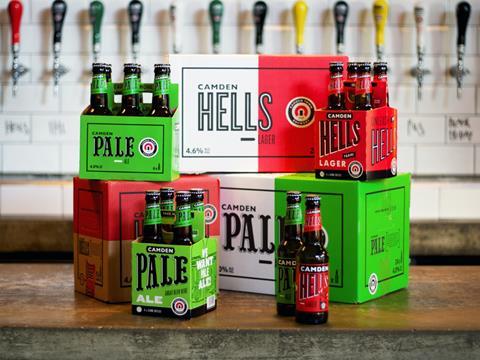 Camden Town Brewery (CTB) has been acquired by brewing industry giant AB InBev, the London craft beer maker has announced. CTB said the deal, for an undisclosed amount, would allow it to "expand its operations, bringing more of its popular canned, bottled and kegged beer to more people."
CTB was founded in 2010 by Jasper Cuppaidge, owner of The Horseshoe pub in Hampstead, north London. It has grown to a company with 95 employees that supplies more than 1000 outlets in the UK, with its flagship product, Hells Lager, available in Waitrose. Cuppaidge said the decision to sell was a response to the brand's "phenomenal" growth.
"To keep up with the demand for our distinctive beers we've had to look at expanding our brewing capacity and team," he said. "AB InBev is going to be our strategic partner, helping us maintain the character and quality of our beers, while giving us access to the investment we need to drive Camden to being ever more successful at home and abroad."
Iain Newell, European director of specialities and craft at AB InBev, called Camden Town a "creative business with a great range of brands that will complement our existing portfolio."
The move comes less than three weeks after AB InBev announced that rival London craft brewery Meantime would be put up for sale to avoid potential competition issues. The Greenwich brewery, along with Peroni and Grolsch, was one of the brands AB acquired as part of its £71bn takeover of SABMiller.
Brewdog founder James Watt immediately announced on Twitter that his company would no longer sell any Camden Town beer in its bars.