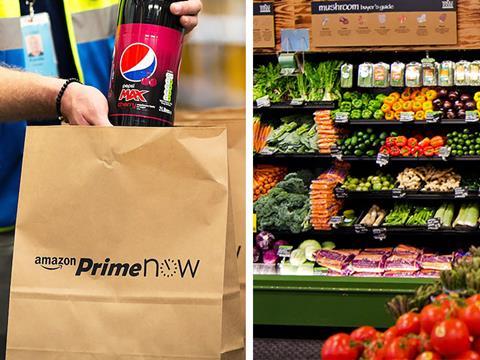 Amazon has snapped up Whole Foods Market for $13.7bn (£10.7bn) in a surprise deal.
The online giant has acquired the organic grocer, which has more than 450 branches in the US and nine in the UK, for $42 (£33) a share.
It is understood Whole Foods CEO John Mackey will remain at the helm following the transaction, which is due to complete "in the second half of 2017", and stores will continue to operate under the Whole Foods brand.
Speculation over a Whole Foods takeover has been rife for months – with rumoured buyers including US grocery chain Albertsons – but until now, Amazon had not emerged as a likely contender.
The deal means Amazon will take on Whole Foods' net debt, having ended its last financial year with a total long-term debt and capital lease obligations of $1.05bn (£82m).
It will also need to address its dwindling sales, which prompted hedge fund shareholder Jana Partners to complain about the company's "chronic underperformance" and suggest a possible sale earlier this year.
Whole Foods has seen same-store sales decline for six consecutive quarters. Despite the steady expansion of its estate – increasing from 311 stores in 2012 to 431 in 2016 – its annual profits fell for the first time in 2016 to £5,411m, down from $5,416m in 2015.
In return, Amazon will gain fast entry into the bricks-and-mortar grocery space, having just dipped its toe into physical stores with two Amazon Fresh Pickup branches and the trial Amazon Go format in Seattle.
It is also likely to seek further growth of Whole Foods' online division, which currently uses third-party service Instacart to fulfil orders in the US.
Amazon CEO Jeff Bezos suggested there would be little change to the brand's core values.
"Millions of people love Whole Foods Market because they offer the best natural and organic foods, and they make it fun to eat healthy," he said. "Whole Foods Market has been satisfying, delighting and nourishing customers for nearly four decades – they're doing an amazing job and we want that to continue."
Whole Foods Market co-founder and CEO John Mackey added: "This partnership presents an opportunity to maximize value for Whole Foods Market's shareholders, while at the same time extending our mission and bringing the highest quality, experience, convenience and innovation to our customers."
UK Supermarket stocks savaged by @amazon $AMZN shock @WholeFoodsUK $WFM deal (£) https://t.co/HmgOLxMK10 pic.twitter.com/k4fR6PTisv

— The Grocer (@TheGrocer) June 16, 2017