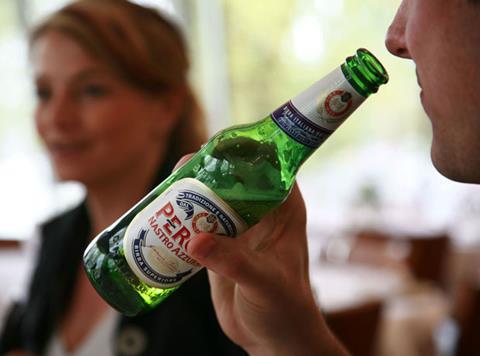 With Japan's Asahi Group's expected to make a bid for Peroni and Grolsch – as trailed in media reports last week – significant change is on the cards for the global beer sector. But what impact would such a deal have on the UK beer category?
The two brands were put up for sale by SAB Miller to help smooth the passage of its £68bn deal with AB InBev through European competition authorities. Asahi is yet to formally announce its intention to bid, but said last Tuesday it was looking into a deal – which commentators say could be worth 400 billion yen (£2.3bn).
Asahi is not the only player expected to make a play for the lager brands, with Carlsberg, Heineken, Molson Coors and C&C Group all tipped by analysts to be interested. But as far as the UK market is concerned, a deal for the Japanese brewer would be the most interesting outcome, in a number of ways.
Although the UK beer industry has long been dominated by foreign companies – Dutch, Belgian, Danish, US and Canadian – Asahi would become the first Asian brewer to gain a significant presence here. A newcomer could be good news for the future of Peroni and Grolsch, says one senior sales executive at a UK brewer.
"On balance it would probably be good news for the SAB brands in the UK to keep them away from a more established brewer portfolio," he says. "It would allow them to retain a high degree of focus and protect long-term equity."
Asahi would be likely to keep the brands' existing business infrastructure, he believes. "I'd assume they would largely retain the existing SAB team in the UK and fold in the small amount of Asahi volume from Shepherd Neame [which currently distributes the brand] so they control their own route to market."
This would enable Asahi to increase distribution of its flagship beer, Super Dry, which has a small but growing UK presence. Sales last year were up 14.7% to £4.2m, taking it into the top 50 lager brands for the first time [Nielsen 52 w/e 10 October 2015].
Chris Wisson, senior drinks analyst at Mintel, says increasing traffic in the other direction would also be a key motivator for Asahi. "The Japanese beer market is heavily dominated by domestic premium brands, and Asahi has a 38% market share of retail volumes," he adds. "However, consumers in China and Japan are becoming more interested in premium Western products. Peroni and Grolsch could therefore fit in very well alongside Asahi, supplementing beers such as Stella Artois and Löwenbräu, which the company also imports into Japan."
Despite its leading position in Japan, where it is just ahead of rival Kirin, Asahi only has a 1.2% share of global beer volumes – far behind the big western brewers [Statista]. Professor John Colley, from Warwick Business School, says a bid for European brands would suggest the brewer is looking to increase that share. "Clearly this signals global ambitions for Asahi as it will give them a strong position in many developed markets," he says.
Industry commentator Glynn Davis, from Beer Insider, believes the bid for UK brands could be the start of a raft of M&A activity for the Japanese brewer. "Obviously these deals enable the buyer to enhance their reach in the overseas market," he says, "and to also bring the purchased brands into their own domestic market. Such a move would unlikely stop with this deal - I'd expect more purchases from Asahi in Europe."
The move could prompt Asahi's Asian rivals to seek a slice of the pie too, adds Wisson. "If this takeover does occur, it would add an interesting new dynamic into the European beer market," he says. "It could also spark further takeovers of its ilk, potentially from the likes of Kirin and Tsingtao. There is a great deal of competition between Chinese and Japanese products in general, and it would not be hugely surprising if a Chinese brewer subsequently looked to respond in kind."