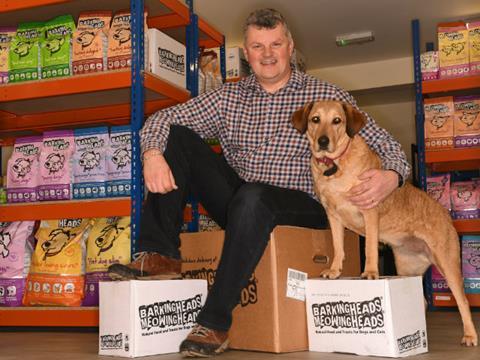 Pet Food UK, the owner of the Barking Heads and Meowing Heads brands of dog and cat food, is the latest business in the fast-growing premium petcare sector to receive a private equity cash injection.
The company has secured £5m from Piper, which has taken a significant minority stake, to help accelerate and manage its growth in the UK and overseas. As part of the deal, Gü Puddings global MD Mark Escolme joins as chairman.
It is the second investment in the natural pet food sector for the private equity house, following the £6m backing of Forthglade in September 2015.
Premium petfood has attracted a high level of interest from PE firms in the past two years as consumers spend more money on their pets. Lily's Kitchen sold a stake to US investment firm Catterton in 2015 and MPM Products sparked a dogfight between PE investors last year, with ECI Partners eventually forking out £50m for the luxury business.
Paul Hunter, Dave O'Regan and Jim Moloney founded Pet Food UK in 2009; two years after the US pet food business they were working for (Nutro) was acquired by Mars.
Barking Heads for dogs and Meowing Heads for cats operate in the dry premium natural pet food category, with super-premium range, AATU, introduced in 2015, comprising of 80% meat and 20% vegetables.
The brands are sold in more than 1,500 stockists in the UK, including Pets At Home, Jollyes, Tesco and independent pet food specialists.
Revenues have exceeded £10m at the group and are growing rapidly across the UK and internationally, with exports to Scandinavia, Ireland, Russia and the Czech Republic making up 30% of the business. Pet Food UK employs a team of 20 staff at its Hemel Hempstead headquarters.
"We had a number of opportunities for investment, but selected Piper because of its deep knowledge and understanding of the sector and ability to help us accelerate and manage our growth successfully," Said Pet Food UK MD Paul Hunter.
"We've already started working with the Piper team and look forward to using their expertise in brand marketing, international sales, ecommerce and team development to help us grow."
The deal is the final investment from Piper's £107m, fifth fund. The private equity firm invested £7m into Propercorn in August 2016 and has previously backed adult soft drink brand Bottle Green, hot dog supplier Rollover and ready meal maker Diet Chef.
Piper also this week revealed it had taken a £10m minority holding in London steak restaurant chain Flat Iron – the first investment from its newly raised sixth fund – following its exit from Loungers café-bars.
Libby Gibson of Piper added: "The £250m natural pet food market continues to be an area of high growth as consumers are increasingly and justifiably concerned about what they are feeding their pets.
"Backing the team behind Barking Heads, one of the leading premium natural dry pet food brands, complements our investment in Forthglade, which is focused on the premium natural wet food sector. Both investments demonstrate our commitment to finding market leading brands in sectors we believe have significant growth potential. The two businesses will continue to be run independently."