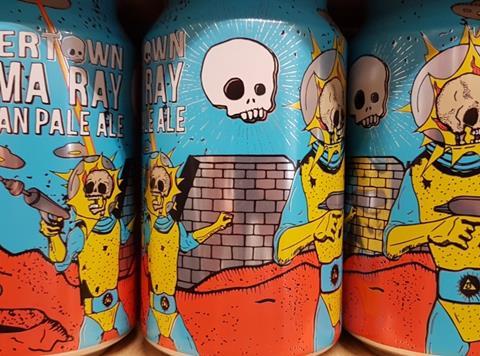 London craft brewery Beavertown has confirmed a £40m deal to sell a minority stake to Heineken, putting an end to weeks of speculation.
It was first reported in late May that Heineken had designs on Beavertown, which makes Gamma Ray Pale Ale and Lupuloid IPA, with MCA Insight suggesting the stake would be 49%.
However, Beavertown refused to confirm or comment on reports until this morning (21 June), when it released a statement on the sale.
Heineken's cash injection will go towards financing the building of a new 125,000 sq ft brewery in London, called Beaverworld, at a yet-to-be-revealed site. The new brewery will increase the brand's production capacity tenfold from 45,000hl to 450,000hl.
In a Q&A on Beavertown's website, founder Logan Plant called the Heineken deal 'a once in a lifetime opportunity, which we as a team have worked so hard to create for ourselves' and 'very arm's-length'.
Crowdfunding to finance Beaverworld had not been 'a realistic option' while private equity 'would have created too much external pressure to hit the return on investment in a short period of time' Plant added.
'They want us to continue doing exactly what we do now, and they will be there as a support network if needed. We do have the option to dip into their resources but again, it is strictly only if we want to. Therefore my main objective was nailed again, we maintain absolute control and vision.'
Heineken has in the past acquired similar minority stakes in the likes of Lagunitas and, more recently, the fledgling Brixton Brewery. In the case of Lagunitas, Heineken went on to acquire the US brewer's remaining shares last year.
A Heineken spokeswoman said the company was "honoured that Beavertown has chosen to collaborate with us on the next step of their journey" and the deal would "get their fantastic beers into the hands of even more drinkers".
Beavertown recently made its debut in the mults with listings in Waitrose for three of its core beers, Gamma Ray, Lupuloid IPA and Neck Oil, which the business called "part of a concerted effort to widen the availability of our beer across the UK".