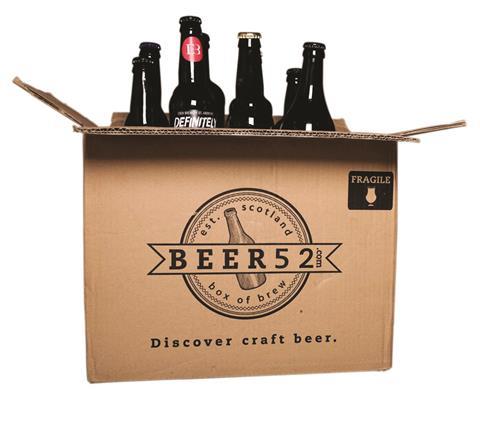 A surge in online sales of alcohol during lockdown has attracted investor interest as Beer52 and Virgin Wines appoint advisors to explore strategic options.
Edinburgh-based craft beer club Beer52 has hired Houlihan Lokey to help raise investment, while Virgin Wines has engaged bankers at Lincoln International to potentially sell the business.
Beer52 co-founder Fraser Doherty said the startup needed funding to help scale up and expand overseas.
He added the business was "open-minded" about the exact nature of the fundraise and had not set a specific target.
Founded by Doherty and James Brown in 2013, the subscription beer club has seen growth accelerate rapidly as a result of the coronavirus pandemic as consumers buy more alcohol to drink at home as pubs have been shut or under curfews.
It now has almost 200,000 active subscribers, according to Doherty, making it the most popular beer club in the world, with the community having drunk more than 20 million beers together.
"We're raising investment to help us scale up and expand our concept internationally, which will see our team in Edinburgh grow from 65 currently to over 100 in the coming years," he said.
"We have not set a specific funding target. Part of what we are looking for is the right partner who has experience of scaling up an e-commerce business internationally, so we are open-minded about what the exact fundraise looks like."
Virgin Wines, which licenses the brand from Richard Branson's Virgin empire, is currently backed by Mobeus Equity Partners and Connection Capital following a £15.9m management buyout led by CEO Jay Wright, CFO Graeme Weir and marketing director Paul Adams in 2013.
The direct wine seller It was founded in 2000 and acquired by Direct Wines in 2005.
Revenues increased 6.4% to £42.5m in the year to 28 June 2019, according to the latest accounts. But growth has taken off in 2020 as consumers began ordering wine directly to their homes in ever-greater numbers.
The business has had a good lockdown, driving EBITDA from about £2m to as high as £6m, dealmakers said.
The process by Lincoln is currently in its early stages, with teasers sent out to potential buyers ahead of an auction next year, according to City sources.
"There is definitely a lot of PE interest in the business," a source said. "It always trades big through Christmas, so it is expected a sale process will go off the back of those numbers."
The pandemic has helped convert millions of new consumers to buying alcohol online for the first time.
A new trends report from Kantar showed that 40% of consumers are more willing to shop online than before the outbreak.
Kantar strategic insight director Richard Lee told The Grocer the biggest driver of growth in online alcohol had been new shoppers coming to the category.
"There have been 6.3 million households buying alcohol online [52 w/e 1 November], an increase of 52%," he said.
"More than 90% of new shoppers who bought alcohol online for the first time have returned to buy more on at least one occasion, which is a positive indicator for the stickability of the new habits."