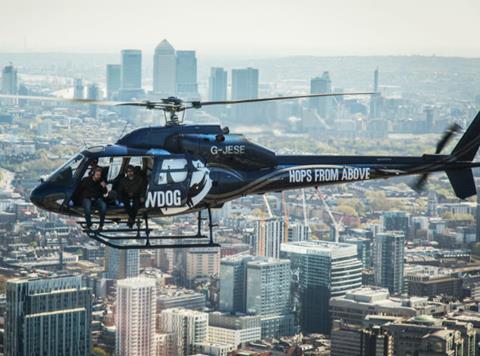 BrewDog - which swore it would never 'sell out' - has sold a 22% stake to a US private equity house in a deal valuing the craft brewer at £1bn.

The Punk IPA brewer secured the investment from San Francisco-based TSG Consumer Partners, whose portfolio includes Glaceau Vitaminwater and Popchips.

Founders James Watt and Martin Dickie, who started making ales in Dickie's mum's garage in Aberdeenshire in 2007, will score a bumper £100m payday from the deal. Another £100m will be used to help fuel Brewdog's ambitious growth, with the rest going to investors who backed BrewDog in earlier crowdfunding rounds.

BrewDog has pioneered the use of crowdfunding to grow its business, raising £36m from more than 50,000 crowdfunding investors since 2009 in a number of fundraising rounds, including a £10m bond issue on Crowdcube in December.

However, these shareholders will only be able to sell up to 15% of their holdings, up to a maximum of 40 shares.

And BrewDog's decision to sell a stake to a private equity firm has also been criticised in some quarters as hypocritical, as the self-styled 'punk' brewer once described partnering with institutional investors as "selling your soul to the Devil".

But Watt defended the investment as delivering fantastic value to its punk equity shareholders. "Shares purchased in Equity for Punks I, which closed in February 2010, are now worth 2,800 per cent of their original value. Even craft beer fans who invested in Equity for Punks IV last year have seen the value of their shareholding increase by 177 per cent in just one year."

He also insisted that the investment would deliver even greater value in the future.

"Our new partnership with TSG is a launchpad for us to turbocharge our mission to make the world as passionate about craft beer as we are, but it's also a validation of our crowdfunding model," Watt said. "Our 'Equity Punks' now own part of an independent business that has attracted an awesome partner who will help grow their investment even further. Crowdfunding can no longer be viewed as alternative finance; this is the democratisation of finance."

TSG Consumer Partners MD Blythe Jack added: "BrewDog is an ideal fit for TSG's mission, which is to partner with visionary founders building next generation consumer brands. The company is truly a pioneer and leader in the rapidly emerging international craft beer market. We look forward to working with BrewDog and its founders as it continues to innovate, expand and harness a unique rebellious energy."

BrewDog has grown rapidly since its 2007 launch, with revenues of more than £70m and profits of over £7m last year, and has topped The Grocer's Fast 50 for the past three years in a row.

As well as developing off trade sales, BrewDog has opened hundreds of bars around the world. It has also invested heavily in plant and machinery, spending £50m on its Aberdeenshire plant, with a second brewery in Ohio opening last month, and it recently announced plans to open plants in Australia and Asia. There are also plans to open a hotel next to both the Aberdeenshire and Ohio plants. The long term aim is to float BrewDog on the Stock Exchange, added Watt.