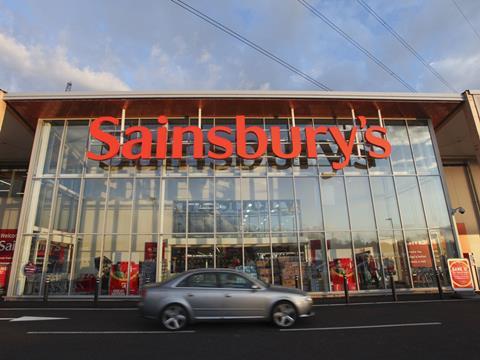 Top story
British Land has agreed to sell 12 superstores from its joint venture with Sainsbury's (SBRY) for £429m to Realty Income Corporation as part of its strategy to reduce its exposure to retail.
The property giant said the sale represented a net initial yield of 5%. British Land's share of the proceeds will be £193.5m net of regearing the leases, representing a modest premium to September 2018 book value.
It said the deal was the latest example of how it was delivering against its clear long-term strategy to build an increasingly mixed-use business focused on three core elements, of which a smaller, refocused retail business was one.
British Land said it expected retail to comprise about 30-35% of the assets of its business, down from around half today.
The company said it was focused on further sales of retail assets which were not aligned to its strategy and continued to make good progress.
"We have a clear view of the value of our assets and despite the clear challenges currently in the retail market, we remain opportunistic and proactive," it said in a statement this morning.
"As a result, we have exchanged or completed on nearly £1bn of retail assets sales (£646m our share) since April 2018 at an average yield of 5.7% on terms marginally ahead of book value. This activity has included the sale of Debenham's Clapham and the Spirit pubs portfolio."
Its superstores exposure would fall to 1.3% of its portfolio based on September 2018 valuations with six standalone stores remaining once the transaction completed – expected at the end of May, it said.
Net proceeds to British Land were expected to be about £95m after the repayment of debt and associated break costs.
Morning update
Fever-Tree (FEVR) has posted it 2018 annual report in which chairman Bill Ronald said the year had yielded further operational and financial progress.
He said the group reinforced its market-leading position in the global premium mixer category, expanded its international footprint, including the establishment of Fever-Tree USA, and continued to build a talented team across the globe – while remaining true to the entrepreneurial and pioneering culture of its co-founders.
Group revenue was £237.4m, reflecting a 40% increase compared to 2017, with adjusted EBITDA increasing to £78.6m (2017: £58.7m). The UK, its longest-established market, once again led the way in terms of revenue growth. The group's other regions all saw positive momentum in 2018.
Ronald said Fever-Tree pioneered the concept of premium mixers to partner the ongoing premiumisation of the spirits category and the increasing focus on simple long mixed drinks. The group's strategy remained unchanged, and the year under review had seen the group continue to build "an excellent platform for capturing the global opportunity ahead".
The establishment of Fever-Tree USA was a significant milestone, he said. Fever-Tree also continued to make great progress across many markets in Europe and it had strengthened its European management team to reflect its growing ambitions for the region.
The company's 2018 Annual General Meeting will be held on 24 May.
Elsewhere this morning, Ahold Delhaize's (AD) Stop & Shop announced a tentative agreement with five local unions which allowed Stop & Shop's 31,000 staff in New England to return to work on Monday. The strikes had affected 246 of Stop & Shop's 415 stores and lasted 11 days.
Frans Muller, CEO of Ahold Delhaize, said: "I am pleased that Stop & Shop's management and the five local unions have tentatively reached a fair and responsible contract in which all Stop & Shop associates are offered pay increases, eligible associates have continued excellent health coverage and eligible associates have ongoing defined benefit pension benefits."
Stop & Shop estimated a one-off impact on underlying operating profit of $90-$110m because of the strike, resulting from lower sales, increased shrink of seasonal and perishable inventory and extra supply chain costs.
Ahold Delhaize now anticipated underlying operating margin for the group for 2019 would be slightly lower than 2018. It also revised the percentage growth of underlying earnings per share in 2019 from high single digits to low single digits.
The group said first quarter 2019 financial results were unaffected and in line with expectations, and would be published on 8 May. More details would be provided about the impact of the strikes at that time, it said.
On the markets this morning, the FTSE 100 opened up 0.2% at 7,472.73pts.
Early risers include Devro (DVO) up 2.21% at 184.8p, PayPoint (PAY) up 1.15% at 969p, Cranswick (CWK), up 1.21% at 2,900.64p, Finsbury Food Group (FIF), up 1.76% at 84.97p and McColl's Retail Group rose 1.47% to 81.68p.
Fallers so far today include C&C Group (CCR), off 1.28% at €3.29, McBride (MCB) down 1.76% at 104.13p, and Science in Sport (SIS) slipped 1.41% to 50.53p.
This week in the City
It's a fairly quiet week in the UK as we return from the Easter break, highlighted by half year results from Primark and British Sugar owner Associated British Foods (ABF), but internationally there is a flurry of results.
ABF will report its interim results tomorrow morning. Glanbia (GLB) holds its AGM on Wednesday.
British American Tobacco (BATS) and Devro (DVO) hold their AGMs on Thursday, the same day as the Confederation of British Industry (CBI) posts its Industrial Trends Survey.
Astra Zeneca (AZN) reports its first-quarter results on Friday along with Just Eat (JE). The CBI publishes its Distributive Trades Survey the same day.
Globally, Coca-Cola (K) will issue its first quarter earnings today, followed by its AGM tomorrow. Procter & Gamble will also issue third quarter results this afternoon.
Carrefour and Heineken (HEIN) will issue Q1 results on Wednesday, while Remy Cointreau will release full-year sales figures.
Altria, Hershey and Amazon will release their Q1 results on Thursday, while Starbucks will issue its half year results.
Colgate Palmolive will update the market on its Q1 results on Friday.