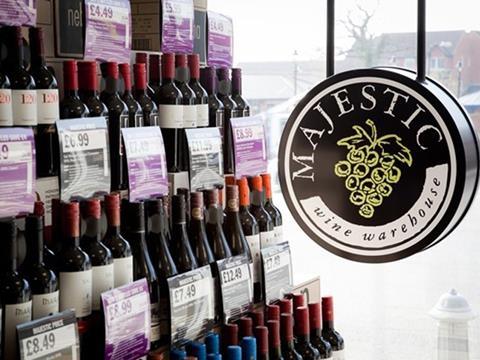 A near 13% share price drop on the announcement of a key acquisition would normally signify the City has given it a firm thumbs down.
Investor response to Majestic Wine's bold acquisition of Naked Wines seemed to suggest the City was less than enamoured with the deal. Majestic's shares fell 12.9% to a year-long low of 280p within minutes of the market opening this morning.
But deeper examination suggests the situation is more complex, and potentially more positive.
The initial share price plunge looks more related to Majsetic's confirmation as part of the deal announcement that it would not be paying out a final dividend (or interim dividend next year) for the first time in 18 years.
Clearly, this makes the short term prospects of the shares – which have already fallen by around 20% in 2015 – less appealing and some hardy souls who have kept faith with Majestic likely saw the scrapping of its dividend as a good point to cut their losses.
Additionally, there were initial suggestions that the £70m price tag on Naked looks a little steep – especially as Majestic's balance sheet is not awash with cash to get the deal done (the acquisition required the agreement new £85m debt facilities with HSBC and Barclays).
But this understandable short-term scepticism doesn't tell us a huge amount about what the Naked deal might mean for Majestic's longer term prospects.
The longer term is where there may be better news for the Majestic board. The wine retailer was clearly in need of some rather radical thinking – it achieved solid 1.1% like-for-like sales growth over Christmas, but slashed its gross margin by 50 basis points to achieve it as it reacted to competition from discounters by cutting prices.
With erstwhile rivals Oddbins and Threshers already having plunged into financial difficulties in recent times under competition from supermarkets and discounters, the business model of store-based alcohol retailers has been under pressure for years. That pressure is only intensifying as Aldi and Lidl increase their reach and wine ranges.
Majestic's solution to this conundrum is nothing if not bold – not only buying Naked, but installing its boss Rowan Gormley as its own CEO. A move which led to a number of observers today joking it was not entirely clear who was buying who.
On the surface the two look like very different businesses – Majestic the traditional wine retailer and Naked the bane of the traditionalists with its online crowdfunded "wine club"-style offer.
However, if properly managed these two approaches could prove complimentary. Naked gets a national distribution network to enable its customers to collect their wine when it suits them, while Majestic gets to vastly upscale and upskill its online operation (and resultant international reach).
From Majestic's point of view the deal has some echoes of Morrisons' tie-up with Ocado to bring in an instant industry-leading online offering without the expense of building it itself – and compared to that deal, the £70m price tag begins to look more reasonable.
"The acquisition represents the sort of radical thinking we were hoping would come out of the strategic review," said Investec this morning.
"Both businesses have much to gain from each other. We expect Mr Gormley to look to unlock Majestic's online potential, improve its CRM, leverage its store network distribution and moderate store roll out plans," the broker said as it upgraded the stock to "buy".
The arguments seem to have won over some of the City's early doubters.
Majestic's share price steadily recovered through the day – moving back above par at around 3pm and currently 2% up at 324p.
The recovery has a long way to go before the shares are back up to the 474p they were trading at in May last year – but Majestic's decision that it has to do something more fundamental than cut its way to growth is potentially a key first step to a real recovery.