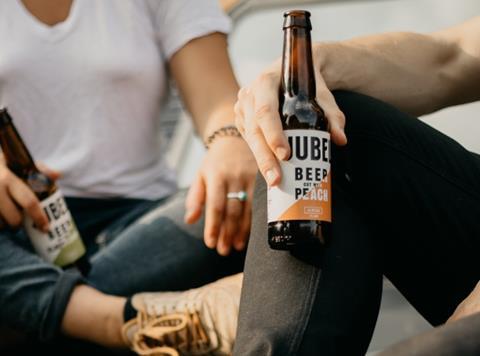 Top story
Magners owner C&C Group (CCR) has acquired a minority stake in fruit-infused craft beer brand Jubel to drive its ambitious growth plans.

The deal, for an undisclosed sum, will see the Cornish startup expand across retail and the on-trade on the back of new links with C&C's distribution businesses.

The move represents a significant expansion in the craft beer category by C&C, as supermarkets continue to grow their offers in the category.

A key factor for the move was the new routes to market it would provide, Jubel said, following C&C's acquisition of Matthew Clark and Bibendum in April 2018.

Jubel was created by Jesse Wilson and Tom Jordan in 2017 to pioneer a new style of beer to appeal to drinkers put off by the "challenging" nature of some craft beer.

"We were growing, and needed some cash investment into the business, while we were also looking to unlock more of the UK distribution landscape," said Wilson. "With C&C it felt like those two things came part and parcel of the same conversation.
"There is still a huge amount of market not drinking craft beer, and we think it's possibly because typically they too hoppy, bitter and challenging for the majority of people to drink. We looked to overcome these challenges by having an accessible style of craft beer which brings more people into an exciting part of the category."
Read the full story on The Grocer's finance page later today
Morning update
UK online grocery sales surged 9% to £12.3bn in 2018, according to new research from Mintel.
The proportion of grocery sales taking place online reached 7% in 2018, up from 6.1% in 2016, despite the sector struggling to entice new online shoppers.
The market research firm revealed that the number of brits shopping for online groceries actually declined over the past two years, sliding from 49% of customer in 2016, to 45% last year.
Nevertheless, total online sales growth is expected to continue and are expected to hit £13.6m in 2019.
Over the next five years, online grocery is forecast to grow to account for 10% of the overall market with a sales value of around £19.8bn by 2023.
Younger shoppers remain enthusiastic about the convenience of the online channel, with 61% of 25-34 year olds doing some grocery shopping online, while just over a third (35%) of shoppers over 45 said they order groceries online.
"Online grocery is, alongside the food discounters, one of the fastest-growing segments within the wider grocery sector," commented Nick Carroll, associate director of retail research at Mintel.
"However, growth is slowing and the number of users is plateauing as retailers struggle to encourage new customers to try their services."
The FTSE 100 has opened slightly higher, up 0.1% to 7,423p, after a mixed session in the US yesterday.
The early risers included McBride (MCB), up 3.7% to 106.6p, Carr's Group (CARR), up 2.9% to 160p, and Premier Foods (PFD), up 2.2% to 36.3p.
The early fallers include Gusbourne (GUS), down 3.1% to 62p, Stock Spirit Group (STCK), up 1.8% to 216p, and British American Tobacco (BAT), down 1.3% to 3,044p.
Yesterday in the city
The FTSE 100 finished the day marginally lower, down just 0.1% to 7,417pts, as it dipped in the afternoon on the back of below-par US markets.
Shares in High Street bellweather WH Smith (SMWH) rose 2.2% to 2,186p after it announced 8% growth in first half sales after its acquisition of US travel retailer InMotion.
Total group revenue was up 8% in the six months ended 28 February 2019 from £643m to £695m with group like for like revenues edging up 1%.
The day's biggest riser in the sector was brewer Fuller, Smith & Turner (FSTA), which jumped 7.7 to 1,183p, the week after the sale of its beer business to Asahi received regulatory approval.
Other risers included Premier Foods (PFD), up 2.6% to 35.5p, Wincanton (WIN), up 2.6% to 237p, and Tesco (TSCO), up 2.5% to 248.3p.
The day's early fallers included Finsbury Food Group (FIF), up 2.9% to 67.5p, Ocado Group (OCDO), up 2.3% to 1,401p, and McBride (MCB), up 2.1% to 102.8p.