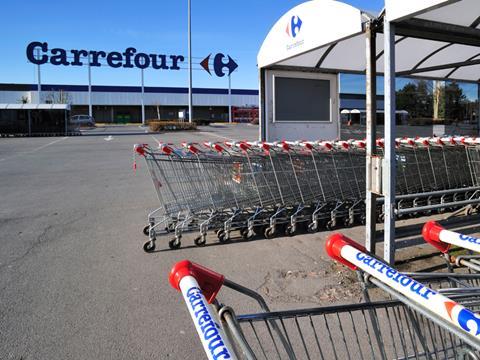 Top story
French retail giant Carrefour (CA) has announced it has agreed to sell its operations in China to Chinese retail group Suning.com in a €1.4bn (£1.25bn) deal.
Suning Holdings Group, which operates over 8,880 stores in more than 700 Chinese cities, has agreed to buy an 80% stake in Caffefour China for €620m.
The transaction, which will be paid in cash, places an enterprise value of €1.4bn on the business.
Carrefour China operates a network of 210 hypermarkets and 24 convenience stores, having launch in the country in 1995.
In 2018 it generated net sales of €3.6bn and EBITDA of €66m.
Carrefour will retain a 20% stake in the business and two seats out of seven on Carrefour China's board.
Closing of the transaction is subject to approval by Chinese competition authorities and other customary conditions, and is expected by the end of 2019.
Suning said the transaction will accelerate its business expansion in all-category retailing, reinforcing its market competitiveness in fast-moving consumer goods.
It added that the acquisition of Carrefour China will integrate Carrefour's supermarket management experience and procurement capability with Suning.com's own retailing model, multi-dimensional logistics delivery network and "pioneering digitalized techniques", to enhance the overall competitiveness and profitability of the both parties.
Tian Rui, vice president of Suning.com said: "In the future, we expect to open up the access for Suning's various business models, such as household electronics retail, to get into Carrefour China's stores located in the central business and living areas of Chinese 1st and 2nd tier cities.
"It will help us better meet more consumers' needs due to strengthened core capabilities achieved by retail store innovation. With 400 million registered customers of the Company's retailing segment, Suning.com's users-ecosystem will also be complemented with Carrefour China's membership system, fully improving the customer value."
Morning update
Franchise retailer Cake Box (CBOX) has delivered a "strong performance" in its inaugural year as a listed business, with revenues growing by 33% year-on-year to £16.9m.
Revenue growth was delivered by new store openings and like for like sales in the year to 31 March 2019.
However, the hot weather in the summer of 2018 impacted the rate of like for like franchise store sales growth, which slowed from 15% in the previous year to 6.5% for the year.
Cake Box said that as soon as temperatures reverted to seasonal norms, its franchise stores saw a pick-up in sales growth, with franchise store like-for-like sales growth recovering to 8.6% in the second half, compared to 4.4% in the first half.
Average franchise store revenue increased by 18% and its estate grew by 27 franchise stores to 113 franchise stores.
Adjusted EBITDA, excluding AIM listing costs of £599k and fair value uplift of £444k, increased from £3.7m to £4.4m and represented an increase of 20% year on year.
Pre-tax profit of £3.8m was up 14% year-on-year.
Cake Box said its own performance stands in contrast to the challenges being seen widely across the UK high street, driven by its ability to tailor its offering for customers to personalise cakes for no extra cost in-store or click and collect.
CEO Sukh Chamdal commented: "In the year Cake Box celebrated its 10th birthday, I'm delighted to be announcing such a strong set of maiden full year results as a listed business. In just a decade, we have developed a unique proposition and a much-loved national brand which has significant potential for significant further expansion, as we look to introduce more customers to our fabulous fresh cream cake offering.
"These results demonstrate the continuing appeal of the Cake Box brand, to both customers and franchises, combined with the financial strength of the group, particularly the strong cash generative nature of our business model. In the past financial year, we have made good progress with our strategic priorities of new store growth, growing our existing stores, introducing new products lines and developing our digital marketing. We are pleased that our geographical spread has increased but there remain plenty of regions where we are confident there is still significant scope for expansion.
"The new financial year has started well and we have already opened four new franchise stores, with two more expected to open before the end of June 2019. The group is well placed for further progress and the board is confident of another successful year of growth."
On the markets this morning, the FTSE 100 has started the week up 0.1% to 7,414.2pts.
Cake Box shares are up 3.5% to 172.3p to start the day.
Other risers include McColl's (MCLS), up 9.1% to 69.6p, Bakkavor (BAKK), up 5.3% to 123p, Stock Sprits Group (STCK), up 3.3% to 220.5p and FeverTree (FEVR), up 3% to 2,373.2p.
Fallers include PureCircle (PURE), down 3.6% to 240p, Tesco (TSCO), down 1.7% to 232.7p and Sainsbury's (SBRY), down 1.4% to 193.2p.
This week in the City
It's another slightly quiet week in the City diary, with few scheduled company updates of note.
In the UK the main event of note is the release of full year results from brewer and pub company Greene King, under new management after the departure of former CEO Rooney Anand, on Thursday.
Thursday also brings third quarter results from Walgreens Boots Alliance, which will include an update on the performance of UK pharmacy chain Boots.
Elsewhere internationally, General Mills will issue its full year earnings on Wednesday while McCormick & Co will release its interim results on Thursday.
In industry news, the monthly Kantar/Nielsen grocery market share figures are out at 8am tomorrow.
Later this morning will bring the released on the monthly CBI Distributive Trades surveys, while GFK's monthly consumer confidence figures are out on Friday morning along with the latest UK GDP figures.