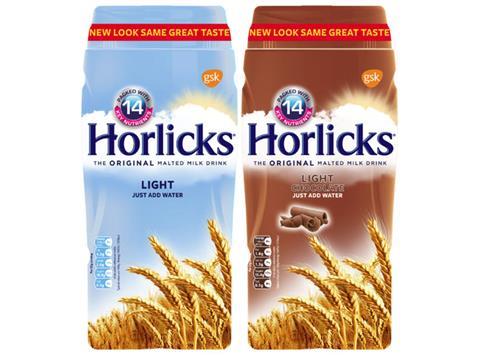 Top story
Coca-Cola (K) is reported to be one of the clutch of multinational fmcg firms lining up to bid for Horlicks after GlaxoSmithKline (GSK) decided to sell the 145-year old business.
The Sunday Telegraph reports that Coca-Cola is amongst potential bidders that have had talks over the brand, with other interested parties including Kraft Heinz (KHC) and Nestle (NESN).
GSK announced in March that it was launching a strategic review of its Horlicks business along with a number of nutrition-focussed products.
The Telegraph writes that the strategic review was triggered by GSK's decision to buy out Novartis' 36.5% stake in a consumer healthcare joint venture for £9.2bn.
A sale of Horlicks, which is particularly popular in India, would help fund the Novartis deal.
The deal would include GSK's 72.5% stake in Indian subsidiary GlaxoSmithKline Consumer Healthcare
GSK expects the strategic review to be finished by the end of this year. It has already cut 320 jobs at its Horlicks manufacturing site in West Sussex last year amid falling sales in the UK.
See this morning's Media Bites for more details.
Morning update
Packing firm DS Smith (SMDS) has boosted annual revenues and profits by more than 20% driven by acquisitions and strong performance in Europe.
Sales in the year to 30 April 2018 were up 21% on a reported basis and 17% on an constant currency basis to £5.77bn.
Adjusted profit before tax was up 21% (17% constant currency) to £473m, with statutory profit before tax up 11% to £292m.
Sales growth was equally weighted between the contribution from organic growth and from acquired businesses.
Organic growth was driven principally by volume growth and increases in sales price, implemented in response to rises in underlying paper prices.
Organic corrugated box volumes have grown strongly throughout the year by 5.2%. All regions reported growth, with particularly strong regional volumes in DCH and Northern Europe, Central Europe and Italy, and North America.
CEO Miles Roberts commented: "DS Smith is reporting a strong set of numbers for the full year, showing that we are continuing to succeed in a very dynamic market.
"Through our close customer relationships and innovation, we are capitalising on secular underlying growth trends such as the rise in e-commerce, desire for sustainable products and the evolution in consumer shopping habits.
"We are gaining market share and showing strong margin performance, offsetting significant input cost headwinds. Our box volume growth continues to be impressive at just over 5%, demonstrating the continuing demand for our sustainable, high-quality products."
Earlier this month the group announced the proposed acquisition of Europac to build on its recent acquisitions in Europe of EcoPack and EcoPaper and also in the US.
Elsewhere, Heineken (HEIN) has announced this morning it will invest £44m in its UK pub estate.
The Dutch brewing giant will plough the cash into approximately 500 of the 2,900 pubs owned by its Star Pubs & Bars business to create 1,000 new jobs.
The investment more than doubles the £20m that Heineken put into its UK pubs business last year.
David Forde, the UK managing director of Heineken, said: "We are passionate supporters of the Great British Pub and believe that well-invested pubs run by skilled and motivated operators will continue to prosper."
"We believe that our commitment to investment, and understanding of consumer trends, will help our licensees' businesses to keep growing and ensure that the Great British pub remains at the heart of British life for generations to come."
On the markets this morning, the FTSE 100 has opened down 0.1% at 7,623.2pts.
DS Smith is down 1.7% to 554p.
Greene King (GNK) and Marston's (MARS) have been boosted by Heineken's investment in pubs, rising 2.5% to 635.4p and 2.5% to 103.4p respectively.
Other movers include, Associated British Foods (ABF), up 1.8% to 2,785p, Premier Foods (PFD), up 1.9% to 40.4p and Devro (DVO), up 1.2% to 209.5p.
Ocado (OCDO) is down 2.9% to 1,009.5p on its official entry to the FTSE 100, while Diageo (DGE) is down 1.1% to 2,755p, PayPoint (PAY), down 0.9% to 1,050p and Compass Group (CPG), down 0.9% to 1,600p.
This week in the City
The City is going through an early summer lull with few items of note in the grocery sector this week.
The diary is barren for UK grocery and fmcg updates, with Ocado's (OCDO) new US partner Kroger announced first quarter results on Thursday the most relevant scheduled update.
Instead, the major event of the week is away from the market as a host of Sainsbury's and Asda execs, including bosses Roger Burnley and Mike Coupe face up to the Environment, Food and Rural Affairs committee on Wednesday morning to justify the Sainsbury's/Asda merger.
In wider retail, clothing group Bonmarche issues its annual results tomorrow, while House of Fraser's controversial CVA vote – which is reportedly opposed by a chunk of commercial landlords – is set for Friday.
In economic news, Thursday brings the monthly Bank of England interest rate decision, with the MPC widely expected to keep interest rates at 0.5% as inflation has eased in recent months despite rising energy prices.
Wednesday brings the monthly CBI industrial trends surveys.