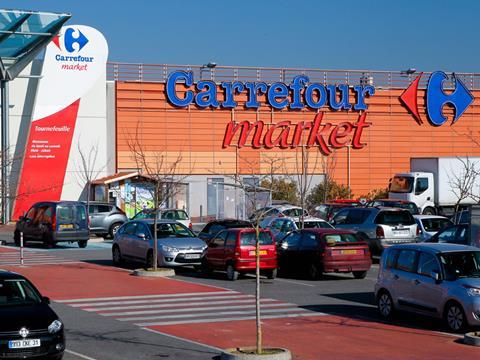 Top story
French supermarket chain Casino says it rejected a potential takeover approach from hypermarket Carrefour, a claim which Carrefour (CA) denies.
Casino, which has seen its value tumble by a third over the past year, said it was approached regarding a tie-up but its board unanimously "rejected Carrefour's approach".
Carrefour, the world's second largest grocer by revenues, quickly issued a counter-statement last night, denying an approach was made.
Casino stated that its directors met on Sunday and "unanimously reiterated its entire confidence in Casino's strategy for value creation based on its unique market positioning".
"Casino thus intends to take all necessary action to defend the group's corporate interest, and its structural integrity, a key factor for the success of its strategy," it said in a statement.
"The board of directors also acknowledged the barriers, in France and in Brazil, to a combination with Carrefour, especially in terms of competition and employment. The board unanimously decided to reject Carrefour's approach."
Such a tie-up would combine two of France's largest supermarket groups, as the multiyear price war continues to heap on pressure while retailers also battle of e-commerce players such as amazon.
Casino has seen its value fall a third this year as investor concerns grow over high levels of debt. Only last week, parent company announced it had secured a €500m credit line from French branks securing its position, slightly improving its share price.
Larger rival Carrefour is currently undergoing an expansive transformation plan under new chief executive, Alexandre Bompard, and announced plans for a buying partnership with Tesco this summer.
"Carrefour denies having solicited Casino and is surprised that Casino's board of directors would have been submitted a merger proposal that does not exist," Carrefour said in a statement.
"Focused on the implementation of its 2022 transformation plan, Carrefour is reviewing its legal options in order to stop these unacceptable innuendoes."
Morning update
Lloyds' private equity arm is battling against a foreign rival to purchase Lambrini-maker Halewood Wines & Spirits.
Lloyds Development Capital is in talks to buy a substantial stake in drinks' company, in a deal which could value it at £300m, according to reports in the Mail on Sunday.
Halewood, which also makes Crabbies alcoholic ginger beer and Whitley Neil gin, announced in May that it had hired NM Rothschild to carry out a "strategic review" to look into potential sale options.
It is understood that a rival overseas bidder is in a showdown with Lloyds', although the identity of the competitor remains unknown.
Most of Merseyside-based Halewood is owned by the executors of the late founder John Halewood, family trusts and John's widow Judy, with small stakes held by management.
Halewood made a pre-tax profit of £4.8million from sales of £216.7million last year.
A deal with LDC would place alongside a significant portfolio of food and drink brands including Seabrook Crisps, Addo Foods and Hill Biscuits.
A spokesperson for Halewood said: "It's widely known that Halewood Wines & Spirits is considering sale options.
"There's strong interest in the company. No decisions have been made in relation to any offers or proposals for the business."
Elsewhere, trade concerns continue to dominate the markets, with the FTSE 100 down slightly to 0.2% in early trading.
Early risers this morning included Vimto maker Nichols (NICL), up 1.1% to 1,519p, Greggs (GRG), up 1% to 1,076p and Cranswick (CWK), up 0.8% to 3,390p.
Today's early fallers include PayPoint (PAY), down 1.6% to 923.6p, Diageo (DGE), down 1% to 2,672.5p, and Reckitt Benckiser (RB.), down 0.9% to 6,891p.
This week in the City
After a couple of fairly busy weeks on the financial calendar it has quietened down again, with just a smattering of planned announcements.
On Tuesday, high street chocolatier Hotel Chocolat (HOTC) will reveal its full year results, following on from a third quarter that highlighted quickening growth overseas.
The same day will also see Scottish soft-drink maker AG Barr (BAG) announce its half year profits, revealing the impact of sugar free reformulation.
On Wednesday, struggling high street butcher Crawshaw Group will (CRAW) release its interim figures as it looks to improve sales growth.
Imperial Leather manufacturer PZ Cussons (PZC) will also announce a pre-closing trading statement on Wednesday.
Transport retail specialist SSP Group (SSPG), will hoping to continue its recent performances as it also issues a trading announcement.
Wednesday will also see US supplier General Mills hold its Annual General Meeting.
On Friday, the final estimate for GDP second quarter growth will be issued, and it will also see September's GfK consumer confidence report published.