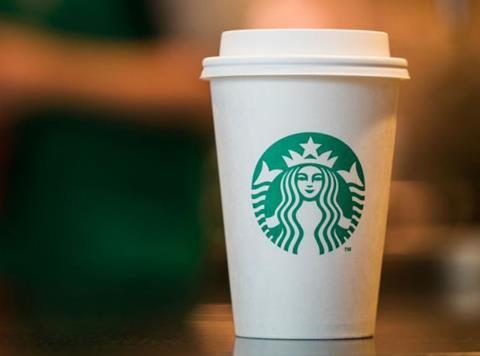 Top story
Nestlé (NESN) has confirmed an agreement granting it perpetual rights to market Starbucks consumer and foodservice products globally outside of the company's coffee shops.
The deal provides Nestlé with a strong platform for continued growth in North America with leadership positions in the premium roast and ground and portioned coffee businesses.
It also allows Nestlé to capture exciting new growth opportunities in the rest of the world with Starbucks premium products. As a complete provider of coffee solutions, Nestlé will accelerate growth in out-of-home channels.
The two companies will work closely together on innovation and go-to-market strategies to bring the best coffee to customers around the world.
Mark Schneider, CEO, of Nestlé, said: "This transaction is a significant step for our coffee business, Nestlé's largest high-growth category."
"With Starbucks, Nescafé and Nespresso we bring together three iconic brands in the world of coffee. We are delighted to have Starbucks as our partner. Both companies have true passion for outstanding coffee and are proud to be recognised as global leaders for their responsible and sustainable coffee sourcing. This is a great day for coffee lovers around the world."
Kevin Johnson, president and chief executive of Starbucks, said: "This global coffee alliance will bring the Starbucks experience to the homes of millions more around the world through the reach and reputation of Nestlé.
"This historic deal is part of our ongoing efforts to focus and evolve our business to meet the changing consumer needs, and we are proud to work alongside a company that is committed to our shared values."
Starbucks will receive an up-front cash payment of $7.2bn (£5.3bn) for a business which generated annual sales of $2bn.
The transaction does not include the transfer of any fixed assets, which facilitates a smooth and efficient integration.
Nestlé said it expected this business to contribute positively to its earnings per share and organic growth targets as from 2019. Nestlé's ongoing share-buyback program will remain unchanged.
About 500 Starbucks employees will join Nestlé. Operations will continue to be located in Seattle.
The deal excludes ready-to-drink products and all sales of any products within Starbucks coffee shops.
Morning update
Wynnstay Group (WYN) has appointed Gareth Davies as chief executive designate, who will succeed Ken Greetham on his forthcoming retirement.
Davies, described as "a strong team player", is currently joint managing director of Wynnstay (Agricultural Supplies), a job he has held for the past five years.
Greetham has been with the business for 21 years, the last 10 as chief executive.
He will continue in his current role until early July 2018 to facilitate a smooth handover.
Davies is also a director of some of Wynnstay's joint venture and associate companies. He joined Wynnstay as sales manager for South Wales, and became head of agriculture in 2008.
He is a director of Hybu Cig Cymru - Meat Promotion Wales, the industry-led organisation responsible for the development, promotion and marketing of Welsh red meat, and he is a member of the Welsh Government Trade and Supply Chain Working Group and the Welsh Government Rural Communities body, and Treasurer of British Grassland Society.
Jim McCarthy, chairman of Wynnstay, said: "Ken Greetham has led Wynnstay for the last 10 years with tremendous skill and judgement, and his contribution to the group over 21 years has been outstanding.
"On behalf of all his colleagues at Wynnstay, we wish him a happy retirement and thank him for his leadership, particularly over the last two years, which have been some of the most difficult in recent history for the agricultural sector.
"Ken is succeeded by Gareth Davies, a highly talented individual and a strong team player, who, like Ken, is passionately committed to the business. Under his guidance, we are confident that Wynnstay will continue to develop and grow, extending its geographic presence and building its position in its chosen markets."
Greetham, said it had been "a tremendous privilege" to lead Wynnstay, and to work alongside the very talented people within the group.
"I hand over my role to Gareth Davies, someone I respect and trust, and share the board's confidence in Gareth's ability to drive the group's ongoing growth and development. I am confident that Wynnstay will continue to grow and flourish under his leadership."
PureCircle (PURE) has launched Coca-Cola Stevia No Sugar in New Zealand – the first product from the world's leading beverage company sweetened solely with stevia.
PureCircle has worked closely with The Coca-Cola Company for years on stevia and innovated together to bring Coca-Cola Stevia No Sugar to market.
PureCircle recently announced plans to significantly increase the planting of Starleaf stevia, a proprietary non-GMO stevia plant that yields 20 times more of the best-tasting stevia leaf sweeteners versus current conventional varieties.
PureCircle chief executive, Magomet Malsagov, said: "The launch of Coca-Cola Stevia No Sugar is a very material development which further strengthens the long-term prospects of the stevia industry in general and PureCircle which has invested significant resources to produce the best tasting stevia leaf sweeteners.
"Having scaled Starleaf plantations and established large scale production capacity, we have positioned PureCircle as the partner of choice for major brands around the world that are looking to roll out great-tasting products with less or no sugar and artificial sweeteners."
Treatt (TET) has announced the conditional sale of its wholly-owned subsidiary Earthoil Plantations, which specialises in the supply of pure, organic, fair trade essential and cold pressed vegetable seed oils for the personal care and cosmetic industries, to Univar for £11m.
The dale does not include the Kenyan subsidiaries which will continue to supply Earthoil Plantations under a three-year supply agreement.
Transitional services arrangements with Earthoil Plantations have also been agreed for an initial limited period of up to six months from completion.
Group chief executive Daemmon Reeve, said: "As Treatt continues to grow and we embark on our revised 2022 strategy, Earthoil Plantations has become non-core to the group. This sale will allow us to focus our efforts and resources on developing our business in the global supply of innovative ingredient solutions to the flavour, fragrance, beverage and consumer product industries."
The news came alongside Treatt's interim results to the end of March. It reported adjusted pre-tax profit up 20.4% to £5.8m on revenue up 13.7% to £53.6m.
Reeve said: "Following the exceptional performance of the Group in 2017, it is very encouraging to again be reporting both strong revenue and profit growth for the half year. Our strategy continues to deliver with the main business drivers of citrus, tea and sugar reduction performing well in the period.
"Whilst there is still much to do to complete the year, and movements in exchange rates or raw material prices can impact results, the board is currently confident that the group will meet its expectations for the financial year ending 30 September 2018."
Unilever (ULVR) has announced the commencement of a programme to buy back shares with an aggregate market value equivalent of up to €6bn (£5.3bn).
The first tranche will begin on 8 May 2018 for an aggregate market value equivalent to €3bn, of which €1.5bn will be bought back in the form of Unilever PLC ordinary shares, and €1.5bn will be bought back in the form of Unilever N.V. ordinary shares, or depositary receipts in respect of such ordinary shares.
It said any further tranches of the buy-back programme, which may be conducted after completion of the initial programme, would be announced in due course.
Mitsubishi Corporation (TYO) has posted full-year revenue of ¥7,567.4bn, up 18%. Gross profit climbed 42% to ¥1,886.6 bn.
On the markets this morning, the FTSE 100 climbed 0.3% in early trading to 7,590.1pts
Early risers include Stock Spirits Group (STCK), up 4.1% at 270p, Associated British Foods (ABF), up 1.2% at 2,737p, C&C Group (CCR), up 1.6% at €3.2 and Dairy Crest Group (DCG), up 1% at 548p.
Devro (DVO) also climbed in early trading, up 1.8% at 225p, Finsbury Food Group (FIF), up 1% at 129.9p, Imperial Brands, up 1.1% at 2,629p, Majestic WINE (WINE), up 2.9% at 425p, Ocado Group (OCDO), up 1.5% at 565.9p, PayPoint, up 1.9% at 883p and PureCircle (PURE), up 2.2% at 398.5p.
Fallers so far today include Hotel Chocolat Group (HOTC), down 0.9% at 391.5p, PZ Cussons (PZC), down 0.9% at 241.6p, Real Good Food (RGD), down 3.5% at 14p, Cranswick, off 0.6% at 2,948p and AG Barr (BAG), up 0.6% at 691p.
This week in the City
Treatt (TET) reported its interim results this morning and Mitsubish Corporation (TYO), its finals, followed by Q3 results from US food group Hain Celestial.
Compass Group (CPG) and Imperial Brands (IMB) report interims on Wednesday.
The British Retail Consortium releases like-for like retail sales on Wednesday and Greggs (GRG) is scheduled for a trading announcement ahead of its AGM.
Morrisons (MRW) and Coca-Cola HBC (CCH) are scheduled for trading announcements on Thursday, the same day as Stobart Group (STOB) reports its finals.
Internationally, Ahold Delhaize (AD), AB InBev (ABI) and Henkel (HEN) are all scheduled to release first quarter trading updates tomorrow.