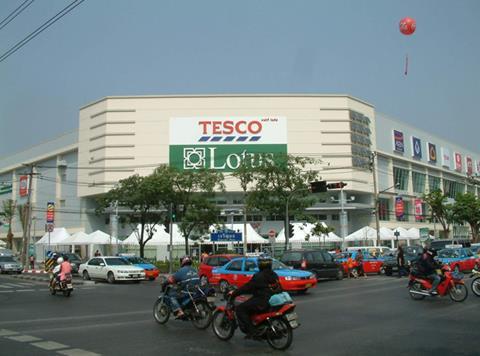 Top story
Tesco (TSCO) has agreed to sell its business Thailand and Malaysia to CP Group for an enterprise value of US$10,6bn (£8.2bn).
Net cash proceeds will be US$10.3 billion (£8bn) before tax and other transaction costs
The enterprise value of £8.2bn on a cash and debt free basis implies an EV/EBITDA multiple of 12.5 times.
Tesco said it intends to return around £5bn to shareholders via a special dividend with associated share consolidation.
Tesco said this disposal will "further de-risk the Tesco business" by reducing indebtedness through a £2.5bn pension contribution that, along with other measures, is expected to eliminate the current funding deficit and significantly reduce the prospect of having to make further pension deficit contributions in the future
Completion of the deal which is conditional on Tesco shareholder approval and customary regulatory approvals in Thailand and Malaysia, is expected during the second half of 2020.
Tesco CEO Dave Lewis commented: "Following inbound interest and a detailed strategic review of all options, we are announcing today the proposed sale of Tesco Thailand and Tesco Malaysia. This sale releases material value and allows us to further simplify and focus the business, as well as to return significant value to shareholders.
"I would like to thank all of our Tesco Thailand and Tesco Malaysia colleagues for their dedication, professionalism and service to our customers, which has resulted in the creation of such a strong business. I am confident that the agreement we have reached with CP Group presents an exciting opportunity for their continued success."
The business is being bought by a combination of CP Group entities – namely C.P. Retail Development Company, Charoen Pokphand Holding Co, CP All Public Limited Company and C.P. Merchandising Co.
Tesco said the Disposal will further simplify the Tesco Group, "enabling a stronger focus on driving cash generation and returns to shareholders from our retail businesses in the UK and Ireland and in Central Europe".
Tesco shares are down 0.3% to 239.9p on the news, but down substantially less than the wider market this morning.
Morning update
The biggest drop in oil prices in decades has sent global markets into a tailspin this morning.
The cost of oil plunged by around a third overnight amid a coronavirus-driven sell-off, which has sent the FTSE 100 plunging by 7.7% to 5,964.1p and its lowest levels since early 2016.
Amongst those worst hit so far are DS Smith (SMDS), down 9% to 293.2p, FeverTree (FEVR), down 8.7% to 1,130.5p, SSP Group (SSPG), down 8% to 423p, Greggs (GRG),. down 7.6% to 2,014p and Marks and Spencer (MKS), down 7.3% to 143p.
There are no risers, just smaller fallers - including, along with Tesco, Hilton Food Group (HFG), down 0.5% to 980p and Hotel Chocolat (HOTC), down 0.6% to 392.5p.
This week in the City
It looks to be an exceptionally quiet week for fmcg company announcements amid the wider coronavirus market volatility, with no notable results in the calendar.
Away from company news, we have the first budget under Boris Johnson's government on Wednesday.
The BRC-KPMG Retail Sales figures for February are released tomorrow morning.
Also, the Grocer Price Index for February will be published on Friday, with grocery prices in mild inflation of between 0.4% to 0.6% over the past four months.