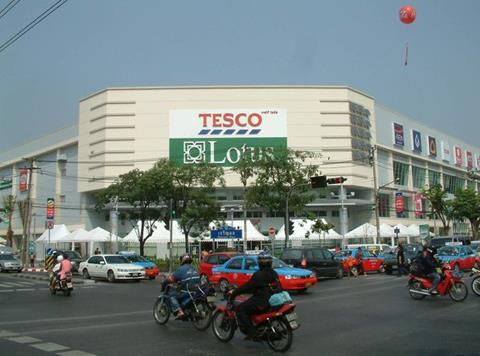 Top story
Tesco, which last week sparked a wave of activity among UK retailers after unilaterally announcing it was returning £585m of business rates relief, has this morning confirmed the $10.6bn sale of its businesses in Asia.
The supermarket reaffirmed its plans to return £5bn to its investors by way of a special dividend payment, expected to be paid in February 2021, conditional on shareholder approval.
A further £2.5bn from the sale proceeds will be used to pay down a deficit on the group's defined benefit pension scheme.
Tesco said this morning that buyer CP Group had reviewed the formal notice of approval given by Thai competition authorities in November and was satisfied.
Following approval from the Ministry of Domestic Trade and Consumer Affairs in Malaysia on 10 November, there are no further conditions outstanding and the sale is expected to complete around 18 December.
CEO Ken Murphy said: "I would like to thank all our colleagues in Asia for their hard work and dedication to our customers over many years.
"They have built a very strong business. I'm confident that the agreement with CP Group will ensure that they are well setup for continued success.
"This sale allows us to focus on our businesses across Europe and to continue delivering for customers, make a significant contribution to our pension deficit and return value to shareholders."
Tesco announced the sale of its businesses in Thailand and Malaysia back in March, with the deal representing the group's exit from Asia following the disposal of the South Korean interest in 2015.
CP Group will take control of Tesco's almost 2,000 stores in Thailand and a further 74 in Malaysia, making the family controlled conglomerate the biggest retailer in Thailand.
Tesco shares shot up 1.9% to 228.7p this morning after the news was announced.
Morning update
British American Tobacco (BAT) has reported a better-than-feared second half as headwinds caused by the Covid pandemic were less fierce than expected.
The Lucky Strike maker said in a pre-close trading update that revenue growth would be at the high end of its forecasted range after the impact from the coronavirus crisis was reduced from -3% to -2.5%.
It added global industry cigarette and tobacco heated product decline was also improved to -5%, up from an expected -7% previously, thanks to an earlier than anticipated lifting of a sales ban in South Africa and "continued resilience" in developed markets and improving trends in emerging markets.
BAT reported that constant currency revenue growth was now expected to be at the high end of the 1-3% range, including a £50m hit in its new category revenue following a decision to withdraw a glo Sens e-cig product from Japan.
CEO Jack Bowles said: "Throughout 2020, our priority has been the health and wellbeing of our employees. Covid-19 has made this a difficult year for everyone, and I am proud of the continued commitment and dedication of our people around the world. It is their hard work that has ensured we are on track to deliver a strong set of results in 2020, given this backdrop.
"We are confident about the future for BAT and are committed to our 2025 new category revenue ambition of £5bn.
"While the environment remains uncertain, due to the continuing challenges of Covid-19, the business is performing strongly."
Nestlé Purina PetCare is set to invest $550m to expand its petfood manufacturing facility in Hartwell, Georgia, creating up to 130 jobs.
The expansion comes just one year after the factory opening in November 2019.
In 2017, Purina announced plans to open a wet petfood factory in Hartwell, with a commitment to invest $320m and employ 240 staff by 2023.
As a result of growing demand for Purina's high-quality and nutritious pet care brands, the facility is expanding to add processing, packaging and warehouse capacity, for a total of $870m committed to the company's Hartwell operations.
This expansion in Hartwell is part of a broader growth plan for Purina in the US, which also includes new factories recently announced in Williamsburg Township, Ohio, and Eden, North Carolina.
Purina brands feed 49 million dogs and 66 million cats in the US every year, and the Hartwell location produces several of the company's flagship brands, including Fancy Feast.
The FTSE 100 has had a confident start despite Brexit jitters, climbing 0.9% to 6,614.29pts.
Early risers in food and drink include WH Smith, up 2.9% to 1,634p, Coca-Cola European Partners, up 2.8% to €39.45, and Tesco.
Bakkavor was among falling stocks after a big rise yesterday (see below), down 2.3% to 81p, while SSP Group fell a further 1.4% to 343.3p, and Nichols was down 1.3% to 1,130p.
Yesterday in the City
The FTSE 100 nudged its nose just ahead by 0.1% to 6,558.82pts after spending most of the day in the red as Brexit talks remained on a knife edge.
It was a mixed day for the three listed grocers after the latest Kantar market share figures showed soaring sales in November as England went back into lockdown. Morrisons, which was the best performing of the Big Four, climbed 1.7% to 176.5p, while Sainsbury's increased 2.1% to 216.2p and Tesco slipped 0.1% to 224.5p.
Risers yesterday included Bakkavor, up 7.8% to 82.9p, Hotel Chocolat, up 6.1% to 432.5p, and packaging group DS Smith, up 3.8% to 362p.
C&C Group, Greencore, Finsbury Food Group and SSP Group were all among the fallers, down 6% to 228.5p, 5.7% to 116.5p, 3.4% to 72p and 3.1% to 348.2p respectively.