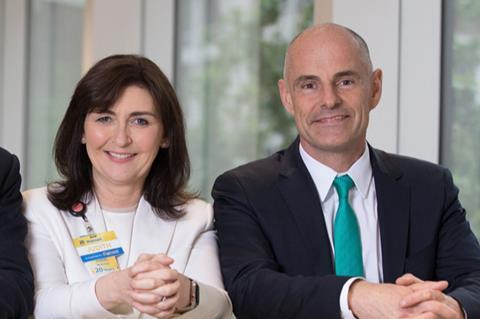 Top story
Walmart International CEO Judith McKenna has told Asda staff that a public listing of the UK supermarket chain is being 'seriously considered' following the collapse of its merger with Sainsbury's.
Speaking at a gathering of 1200 of managers at Asda's Leeds based yesterday, McKenna confirmed a spin-off of its UK arm was being explored.
She said that much of the recent commentary around Asda's future after the collapse of its Sainsbury's merger was "just speculation".
However, she confirmed: "While we are not rushing into anything, I want you to know that we are seriously considering a path to an IPO – a public listing – to strengthen your long term success."
She also cautioned that any preparations for IPO would "take years" and that colleagues' primary focus should remain on delivering its strategy to "make you the best Asda you can be".
Addressing the failed Sainsbury's merger, she said: "You were a good business going into the merger and under Roger's leadership you – all of you – made this a stronger business over the last year. I believe that looking ahead, you have the potential for even greater things, and Walmart will ensure that you have resources to do that."
She concluded: "Now is the time to stay focussed. You can drive sales in your store and make a difference to your customers and colleagues. This is not a market where success comes easily or without a lot of effort, but you have the skills, the tools and most importantly the attitude to be successful."
Asda CEO Roger Burnley said there was no change in direction and called on staff to continue delivering Asda's strategy of; winning on price, delivering consistent customer experience and driving growth where customers care.
He told attendees to "forget the language of Plan A and Plan B – there has always been one clear strategy for Asda … it requires momentum in the short term, growth in the medium term and sustainability in the long term … we need to prioritise and focus on what will make a difference to customers versus what won't."
He added: "We have a mountain to climb – continuing momentum, into growth, and ultimately, sustainability – but we can make a difference. We can be brilliant for our customers today. And we can be brilliant for our customers in the future."
Morning update
SSP Group (SSPG) has reported "another good performance" in the first half of the year, driven by what it said were strong sales growth, significant new contract openings across the world and its programme of operational improvements.
The operator of food and beverage outlets in travel locations worldwide reported pre-tax profit up 6.2% at £51.4m compared with £48.4m in the first half of 2018.
Reported revenue climbed 7.1% to £1.26bn at actual exchange rates – up 2% on a like-for-like basis. Underlying operating profit climbed 13.2% to £62.5m (up 13.7% to £61.6m reported).
Like-for-like sales growth in the period, during which it opened its first ever airside M&S Food to Go at Birmingham Airport, was driven by the ongoing roll out of its retailing programmes which it said were delivering well.
It continued to focus on optimising its product ranges and it developed a wider range, including premium products to provide customers with extra choice.
SSP said it was making good use of new technology, such as using self-order kiosks, ordering applications and automatic coffee machines which helped improve the speed of service and increase customer transactions.
Kate Swann, chief executive, said SSP had delivered another good performance in the first half of 2019, driven by strong sales growth, significant new contract openings across the world and its programme of operational improvements.
"We have continued to grow our global presence, particularly in North America and Asia, and we have further expanded our operations in Latin America."
These were high-growth markets for SSP and presented it with exciting opportunities.
"Given this positive momentum, we are today raising our expectations for net gains in the second half of the year.
"Looking forward, the second half has started well and while a degree of uncertainty always exists around passenger numbers in the short term, we continue to be well placed to benefit from the structural growth opportunities in our markets and our programme of operational improvements," Swann said.
Elsewhere, Marstons (MARS) has reported that its brewing business has gone from "strength to strength" winning new distribution contracts and continuing to grow market share.
Underlying group pre-tax profit for the half year grew 2% to £37m on underlying revenue up 5% to £553.1m. On a statutory basis it turned a £13.4m pre-tax loss into a £19.1m profit in the 26 weeks to 30 March.
Brewing enjoyed an 8% uplift in revenues with premium packaged ales commanding a 28% market share.
The off-trade continued to grow in both absolute terms and in share of the total drinks market. The strongest growth was in premium bottled ale, a market segment in which it said had a leading share, and canned craft beer, it said.
It stockpiled several core lines in anticipation of a disorderly Brexit at the end of March. Consequently, stock levels were about £6m higher than the corresponding period last year.
Marstons said it continued to closely monitor the Brexit situation and were well placed to implement any necessary contingency plans.
Ralph Findlay, chief executive, said: "Our leading brewing business goes from strength to strength, winning new distribution contracts and continuing to grow market share.
"We remain focussed on our strategic objectives and good progress has been made with our stated aim to improve cash generation and reduce the group's leverage.
"Whilst the backdrop of ongoing uncertainty around Brexit continues to be challenging, opportunities for growth remain and we are confident of delivering another year of profitable growth for our shareholders."
Contract catering giant Compass Group (CPG) has reported like-for-like revenue grew 3.2% in the first half. Statutory operating profit grew 6.9% to £913m on revenue up 8.8% to £12.3bn. Pre-tax profit climbed from a restated £793m to £852m.
The group noted "excellent" performance in North America with broad-based organic revenue growth of 7.9% and strong Europe organic revenue growth of 5.5%
Rest of World enjoyed 3.2% growth with continuing good performance in developing markets, the company said.
Compass said it had strengthened and simplified its portfolio during the period. It completed several disposals and spent £370m on bolt-on acquisitions.
Dominic Blakemore, group chief executive, said the business had a strong first half. "Organic revenue growth was 6.6%, driven by excellent growth in North America, a strong performance in Europe, particularly in UK Defence, and good growth in Rest of World."
Compass had maintained its strong margin while absorbing the increased "mobilisation costs" in Europe from the higher growth as well as strategic investments being made by the business.
"Our focus on efficiencies and pricing have continued to offset inflation and helped mitigate ongoing volume weakness in the UK and Continental Europe," he said.
Compass had continued to invest in the business to support "exciting long term growth opportunities".
Blakemore continued: "During the first half we spent £370m on bolt-on acquisitions , principally in North America. We have made further progress with our disposal programme and have now exited c. 2% of revenues of non-core businesses. This active portfolio management had a positive impact on the margin in the first half.
"Following the very strong first half performance we now increase our organic revenue growth guidance for the full year and expect to deliver organic revenue growth and margin progression similar to 2018. We remain mindful of the macro uncertainty in parts of Europe and its impact on the business.
"In the longer term, we continue to be excited about the significant structural growth opportunities globally, the potential for further revenue, profit and margin growth, combined with further returns to shareholders."
Stobart Group (STOB) has appointed David Shearer non-executive director and chairman-elect with effect from 1 June.
He will take join the nomination committee when he joins the board and will take over as chairman from Iain Ferguson who will step down at the end of this year's AGM.
Shearer is non-executive chairman of Speedy Hire, the Scottish Edge Fund and Aberdeen New Dawn Investment Trust. He will stand down from the board of Aberdeen New Dawn Investment Trust at the end of its September 2019 AGM.
Andrew Wood, current senior independent director will step down from the board at the same time.
PureCircle (PURE) has completed its placing announced yesterday, raising £26.6m gross through the placing of 9.5m new shares, representing about 5.4% of the existing issued shares.
On the markets this morning, the FTSE 100 climbed 0.2% in early trading to 7,255.4pts.
Early risers include PureCircle (PURE), up 7.9% to 280.5p off the back of the completion of its £26.6m placing. SSP Group (SSPG), put on 1.7% at 707p following the announcement of its interims. Compass Group (CPG) moved 1.1% higher at 1,747p after the announcement of its half-year results. Just Eat (JSE) put on 1% at 671.4p.
Fallers so far today include Majestic Wine (WINE), down 2.8% at 244p, Finsbury Food Group (FIF), down 2.2% to 77.3p and Marston's (MARS), down 1.8% to 99.4p following this morning's results statement.
Yesterday in the City
The FTSE 100 clawed back 1.1% at 7,241.6pts after US president Donald Trump described the trade war with China as "a little squabble" that would turn out "extremely well" and praised Chinese president Xi.
FTSE 100 fallers included Ocado Group (OCDO), of 4.2% at 1,264.5p, Hotel Chocolat Group (HOTC), down 2.1% at 347.5p, Majestic Wine (WINE), off 2% at 251p and Hilton Food Group (HFG) fell 1.2% to 1,028p.
Greggs (GRG) outshone all sector stocks jumped 15.1% to 2,060p after the food-to-go group raised its profit guidance for the third time this year.
McColl's Retail Group (MCLS) climbed 2.9% to 85p, AG Barr (BAG), 2.8% to 859p and Kerry Group (KYGA) 2.2% to €103.8.
Greene King (GNK) rose 2.1% to 612.4p and Cranswick 2% to 2,794p.