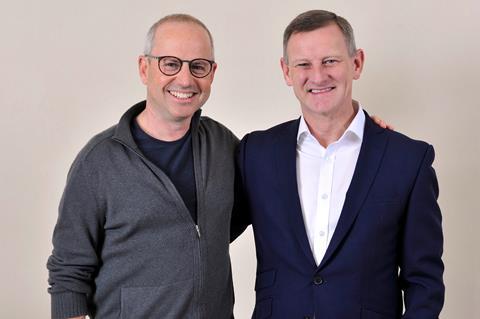 'Burner phones' were among tactics discussed by M&S and former Ocado executive Jonathan Faiman to keep talks secret from Ocado CEO Tim Steiner, explosive court documents claim.

The revelations came as it emerged Ocado was suing Faiman for allegedly obtaining confidential information to help set up his rival business Today Development Partners.

TDP is the company founded by Faiman that was going to provide automated online delivery for Waitrose, helping it retain online customers after parting ways with Ocado in September 2020,

TDP claims that action taken by Ocado, including obtaining search orders to seize documents from Faiman, led Waitrose to walk away from its deal with TDP in July this year.

TDP's defence reveals that, in July last year, before striking the deal with Waitrose - and before M&S secured the joint venture that will see its products replace Waitrose's on Ocado.com - Faiman held talks with M&S's CEO Steve Rowe and chairman Archie Norman over an online venture.
Because M&S was simultaneously in talks with Ocado, and Steiner was rumoured to have previously monitored Waitrose's calls - something Ocado denies - Faiman advised Rowe to 'be cautious in his communications'.
It is alleged that 'Mr Rowe agreed, and stated that he and Mr Norman should acquire 'burner' phones,' understood to mean 'pay-as-you-go' phones, without a named account. M&S refute this allegation and have stated that neither Rowe nor Norman purchased or used any type of phone as is alleged in relation to the matter.
Ocado alleges that Faiman, who co-founded the online grocer with Steiner in 2000 before leaving in 2010, 'unlawfully' obtained confidential documents, including a draft of the contract between Ocado and M&S. The claim seeks 'damages and/or an account of profits'.

Ocado is also suing Jonathan Hillary, who left Ocado as logistics development and engineering director in August to join TDP.

TDP and Faiman admit that in around April 2019 Hillary provided a folder of documents, including the contract, in response to a request by Faiman for 'general assistance and/or advice in relation to how a third party supplier agreement with Waitrose might be structured'.

They deny the contract was of 'any material use or commercial value' or that the documents 'could have been of any real use… so as to cause damage to Ocado'.

The confidentiality of documents is also disputed.

TDP CEO Faiman is counter-suing for 'hundreds of millions' over the loss of the Waitrose deal, which was intended to help turn Waitrose.com into a £1bn business inside three years.

It's claimed Ocado procured the search order using information obtained 'unlawfully' from M&S in breach of a non-disclosure agreement over its talks with TDP.
In its reply, Ocado says that any loss by TDP is not a consequence of such a breach but of TDP's 'wrongdoing'.

Court documents also indicate that Faiman requested a windowless meeting room for M&S talks, and pseudonyms were used for meetings at M&S's headquarters.
'The ground floor of M&S's Paddington offices is largely glass, and Mr Faiman may have requested a meeting on one of the other floors,' the defence and counterclaim says. 'He did so pursuant to his general concern to keep the discussions confidential.'
It adds of the meetings: 'It is admitted that Mr Faiman and Mr Hillary used pseudonyms at reception (in the M&S headquarters). This was the procedure for all of Mr Faiman's meetings with M&S. To the best of Mr Faiman's recollection and belief, those pseudonyms were provided by M&S. The pseudonyms were used in order to protect the confidentiality of the discussions.'
The counterclaim alleges that, on learning HSBC was providing finance for TDP, a 'red-faced' Steiner attended HSBC in person and threatened to withdraw Ocado's custom from the bank unless the arrangement ended.

'HSBC further explained to Mr Faiman that it did not respond well to bullying and that it would not be taking sides in the commercial conflict between Ocado and Today,' the document says.
Ocado denies the allegation and says in its reply to the counterclaim that 'Mr Steiner's private banker has confirmed in writing, no such instruction was given, and no such "threats" were made.'
In a separate defence, Hillary admits disclosing confidential Ocado documents to TDP, arguing that Ocado has suffered no loss as a result, and making no counterclaim.
Hillary's defence also admits he reset his mobile phone 'to clear his personal data (including personal contacts and photos) from the phone before returning it to' Ocado.
An Ocado spokesman said: "Ocado Group plc can confirm the existence of legal proceedings against Jonathan Faiman, Today Development Partners (a company he founded) and Jonathan Hillary, a former senior Ocado employee.

"We commenced legal proceedings for breach of confidence and unlawful means conspiracy. We are completely confident that we will win at trial. The defendants and other individuals were in possession of a substantial amount of Ocado confidential information, that they were using in their business. We have taken forceful steps to recover and protect our confidential information.

"Ocado's board takes this matter extremely seriously. Ocado has a duty to its stakeholders - especially its clients, employees and shareholders - to protect its valuable commercial assets.

"We do not expect any material adverse financial impact from this litigation. It will be dealt with by the Ocado legal department and its external advisors, leaving the rest of the company to focus on what we do best - providing world-class service, products and technology to our clients and customers."

Faiman said: "We are vigorously contesting these claims. Moreover we are seeking damages against Ocado for the losses their actions have caused to our business.

"As we set out in court documents we believe there has been a concerted anti-competitive attack against us by both Ocado and Marks & Spencer. Indeed, Waitrose's decision to end our partnership came within days of Ocado's actions.

"Still, our business is solid and growing, new people are joining us and our path is clear. We are building a business that will have a number of different partners in different markets and that was always going to be the case."