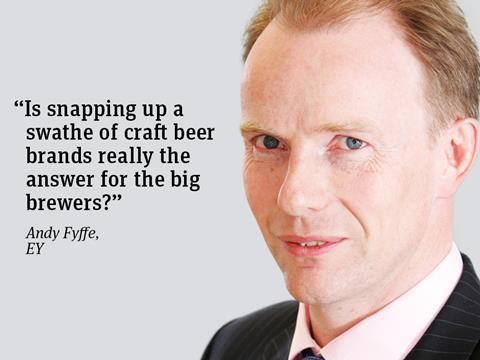 Takeover talk in the brewing sector has been a hot topic over recent weeks, following the announcement of AB InBev's c£70bn takeover bid for SAB Miller - which has now been agreed in principle by SAB Miller's board.

Whatever transpires with this deal, the global brewing sector is unlikely to see many, if any, more mega-deals of this kind as the sector, over recent years, has experienced its fair share of consolidation. But that's not to say there won't be other transaction activity taking place in brewing, far from it. There has been a quiet revolution taking place in the sector: craft brewing.

The once cottage industry has been quietly building a loyal following that has now grown to such an extent that its rise in popularity is making the industry's bigger players take notice. In the UK alone, the independent brewing market is composed of more than 1,400 breweries. Production from these brewers is estimated to have increased by 15.8% in 2014, compared with the 1.0% of total beer industry.

And the global brewing groups have been making low-profile acquisitions in order to tap into this growth potential. Deals such as Heineken's investment in Lagunitas in the US, along with SAB Miller's purchase of London-based Meantime Brewery.

But is snapping up a swathe of craft beer brands really the answer for the big brewers? An argument of some of the craft brewing fan club is that once they've been swallowed by the bigger brewers they lose their 'craft credentials'.

A more immediate challenge faced by the larger brewers is that while there are many successful independent craft brewers, there are few left with significant scale. Also, because of the growing interest in the sector, the valuation expectations of craft brewers have increased. This presents a real conundrum for the bigger players who are finding it hard to find and complete suitable deals.

There is also likely to be a continued step up in investment by global brewers in developing craft offerings through their in-house development teams. Examples of this include Molson Coors' Blue Moon, while Carlsberg distributes Korev, the Cornish lager made by St Austell Brewery.
Equally, challenges lie ahead for the craft brewers themselves. How can they upscale and add capacity to their businesses, without losing cult status?

The larger UK craft brewers are focused on creating strong brands and raising exposure. This has involved innovative marketing strategies. BrewDog has been a leader in this area, also adopting a strategy of opening branded bars across the UK and overseas. Exporting product is another key route to increased growth and scale.

Access to funding is critical to support future growth. While traditional bank debt remains a viable option for craft brewers, some have adopted more innovative methods of raising finance, including crowdfunding and bond schemes. Private equity investment could also become an important source of capital.

The appetite for craft beer shows no sign of abating. And with such a growing market, the only certainty is that deals, in whatever form, will be done.

Andy Fyffe is part of EY's transaction team
This article was amended on Tuesday, 20 October to clarify that Korev is made by St Austell.