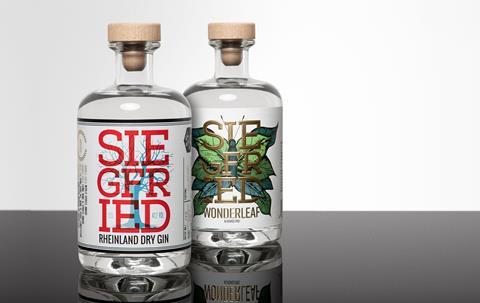 Diageo-owned drinks accelerator Distill Ventures has invested in award-winning German gin maker Rheinland Distillers.
The business, which produces Siegfried Rheinland Dry Gin and alcohol-free alternative Siegfried Wonderleaf, will use the money to drive growth at the brand. The Siegfried founders will also gain access to Distill Ventures acceleration programme.
Distill said the Rheinland business – founded by Raphael Vollmar and Gerald Koenen in 2014 – caught its attention because of its offer of an alcoholic and non-alcoholic product under one brand.
According to a 2019 Distill Ventures data study, 58% of consumers are drinking more no-and lower-abv drinks than in 2018, and 55% of the most influential bartenders in New York, Los Angeles and London believe the no-and low-alcohol trend will continue to grow in 2020.
Siegfried is the first brand with both an alcoholic and a non-alcoholic product to join the Distill's growing portfolio of international non-alcoholic brands, which make up 25% of the entire portfolio.
"It is a great pleasure for us to have Rheinland Distillers on board as the first producer in the portfolio of both alcoholic and non-alcoholic spirits," said Frank Lampen, co-founder and CEO of Distill Ventures.
"It was the passion, innovation and obsession with quality that we saw in Raphael and Gerald which drew us to their brand. Their success story shows precisely where the future of spirits lies: consumers come first and they want the freedom of choice whether with or without alcohol.
"We look forward to working with Gerald and Raphael to take the Siegfried brand to the next level, imagining a future world of spirits together."
In addition to gaining wide distribution through leading retailers in Germany, Rheinland has a strong digital focus since, which has helped Siegfried Rheinland Dry Gin become the fastest-growing German gin brand in 2019.
Vollmar and Koenen have built their own direct-to-consumer offering through the Siegfried website, and also are present on e-commerce platforms such as Amazon in Germany.
The founders of Rheinland Distillers will retain majority ownership of the business, with Diageo holding a minority stake. Vollmar and Koenen will continue to control the business as the company expands.
"At the beginning, we asked ourselves how far we, as people from outside the industry, would be able to go in such a competitive market with a handcrafted product, €4,000, hard work and a lot of passion," Vollmar said.
"With today's step, we are answering this question for ourselves and are delighted to be able to carry the Siegfried brand and the associated attitude to life even further into the world than we ever dreamed possible."
Koenen added: "We are very proud of what we have achieved in the last five years. As we look to further growth, we are delighted to work with Diageo and Distill Ventures to access invaluable knowledge and expertise whilst continuing to operate as an independent business."