Ocado has finally signed a large-scale partnership with an international retailer it can name. So is this the news loyal shareholders have been waiting for?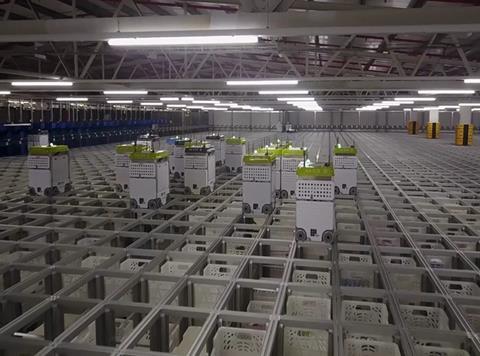 What's the deal? Ocado announced on Tuesday it had penned a deal with French hypermarket chain Groupe Casino. Work will begin immediately to construct a fulfilment centre that serves Greater Paris, Normandie and Hauts de France using its robot technology pioneered in Andover (pictured). Casino's upmarket Monoprix brand will be its first to use the Ocado tech, with build and launch expected to take at least two years. Casino will also use Ocado's routing technology to make deliveries and its expertise to improve its website.

Hasn't it already signed an international deal before? Yes. Ocado initially promised to agree its first international deal before the end of 2016 - only for that deadline to sail by with no progress and little explanation. Eventually it announced its first supply agreement with a European partner in June 2017 - but would not reveal the retailer or the country. So although not the first announcement, Casino is certainly the most significant.

Is this the real deal this time? The Casino deal is on a much larger scale than anything before. Unlike the previous deal, details of which have still not been announced, it includes automated warehouses as well as routing technology and website development, while the previous deal did not encompass automated warehouse technology. Ocado has poured millions into the robot technology behind its Andover facility and management had been under pressure to deliver on the hefty Andover outlay, particularly after being forced to plough an extra £2m into the project in September. This agreement looks like proof of concept on that investment. The site in greater Paris will be even bigger than Ocado's 240,000 sq ft centre in Andover, which first pioneered the use of a robot-powered, grid-style picking system at the end of 2016 and is capable of processing 65,000 orders a week, with the promise of more centres to come.

Is this a vindication of Ocado's wider strategy? Ocado's growth prospects have been pinned on hopes it could sell its technology to other retailers rather than necessarily capturing more of UK grocery share. RBC values Ocado's core grocery at 130p per share and its licensing potential at 190p - illustrating just how vital making material progress on delivering these partnerships is for the group. The Casino deal proves Ocado can sell its ready-made grocery platform across the world. It also supports its contention that the future of online grocery is away from the inefficient store-picking model and is in a more automated, higher margin end-to-end system across the world. The deal means the outlay on Andover looks to have moved from risky to prescient.The challenge is that its lofty valuation - even accepting recent falls - is predicated on the Ocado team securing multiple agreements relatively quickly. "Justifying the share price requires one such big deal each year," says Bernstein.

What is the opportunity in France? France is the world's seventh-largest grocery market, but online sales lag well behind the UK at 6% of the French market. Even then most online orders are click & collect with home delivery relatively undeveloped. Casino will be betting there is untapped demand in high-density population areas of northern France for home delivery. The post-Brexit fall in the pound has also made Ocado's services more affordable. From Ocado's perspective, proof it can deliver a successful automated service in a country where home delivery remains rare would be a huge feather in its cap.

Will this boost Ocado's famously slim bottom line? Not immediately. Ocado has agreed to stump up £15m in the next financial year to establish the business with unspecified capital commitments to the project in the future. For Casino's part, it will pay Ocado certain upfront fees and during the development and ongoing fees linked to performance of the partnership. Ocado says the deal will be earnings neutral in 2018 given the capital spend, but will create "significant long-term value" and grow the profitability of the newly split out Ocado Solutions division from 2019 and beyond as the scope of the project spreads. Bernstein estimates the capex cost of the Casino deal could be a hefty £100m for Ocado of a total bill between £135m-225m as the UK company will pay for ongoing costs. HSBC warned: "We suspect that Casino drove a hard bargain as Ocado needed the deal more than Casino."

How did the market react? Investors have been waiting for such a comprehensive international agreement for a long time and the shares jumped 20.5% to 308.7p on Tuesday. By early Wednesday its shares were up by over a third to 325p since opening at 238.7p on Monday. But the shares remain below the 340p they reached as recently as June 2017 and little over half their value of early 2014 when they broke through 600p.

Why was its share price previously in the doldrums? Ocado's shares had slumped by more than 20% in the month leading up to this week's announcement - largely due to a perceivably underwhelming performance in its home market. Kantar market share data showed Ocado's growth weakening to just 6.8%. Additionally, Amazon's growing presence in grocery and Morrisons rolling out in-store picking outside Ocado's catchment area have helped create negative sentiment around the stock. However, even before Tuesday's announcement Credit Suisse released a bullish broker note, arguing: "We believe investors are acutely aware of the trends within food retailing and understand the importance of the online food channel. However, all of the client feedback stated an unwillingness to establish any positions in the stock until a mainstream grocer signs a deal for Ocado's Smart Platform (including the automated fulfilment centre technology)."

What else is in the pipeline? Swedish media reports this week suggested the biggest grocery chain ICA will announce an agreement in the new year. Ocado has not commented on the story and it is not known whether this is a new development or references the previous agreement with an unnamed retailer. The big prize for Ocado remains an agreement of scale in North America - particularly given that Amazon's has upped the stakes in the sector with its purchase of Whole Foods. Barclays commented: "If one retailer is willing to buy Ocado's technology, then logic suggests there may be more interest from grocers to do deals, especially since the Amazon/Whole Foods deal in June." Duncan Tatton-Brown said he expected the deal to fuel more such discussions with retailers. "As I've said before, we expect to sign multiple deals in the medium term and this announcement won't do any harm to our prospects." Quite.