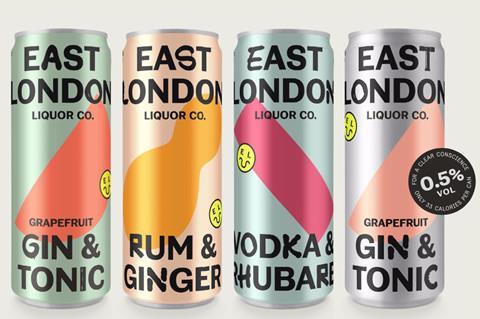 East London Liquor Co has snapped up RTD startup Longflint Drinks, The Grocer can reveal.
The deal, for an undisclosed sum, will see Longflint-branded drinks leave the market. In their place a quadruplet of East London Liquor Company-branded RTDs will roll out.
Longflint co-founder James Law, meanwhile, has joined the board of East London Liquor Co with the deal, from where he will head up product development and innovation in the RTD category.
The new RTDs include 5% abv and 0.5% abv Grapefruit Gin & Tonic cans, as well as Rum & Ginger (4.6%) and Vodka & Rhubarb (4.6% abv). They will roll into Whole Foods Market, and will be available from the brand's online shop.
East London Liquor Co founder Alex Wolpert told The Grocer: "James and I have known each other a long time and James was using our spirits in Longflint cans for a number of years. He has always championed making great canned products and really managed to elevate what an RTD can be.
Wolpert said his expectations for the RTD category were positive despite the coronavirus crisis. "There is a huge branch of people out there who still want their drinks to arrive ready-to-drink. We have done the hard work and they have the pedigree of great spirits."
The brand also plans to roll out a "brave new look and feel" across its full range throughout the year, putting its current branding (which features an upside-down horse glued to a ceiling) to rest.
In its place will come packs "inspired by East London's creative culture, the distillery's industrial aesthetic and the team's no-bullshit attitude".