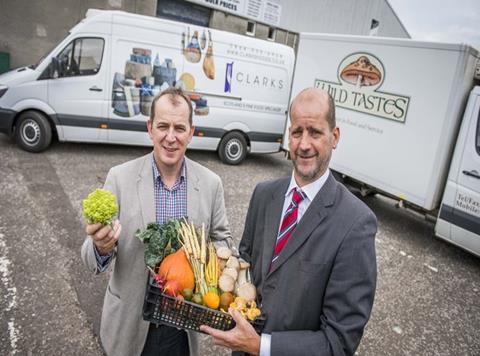 Scottish food and drink investor Fine Food Holdings has snapped up specialist food businesses in deals worth £1.5m.
Clarks Speciality Foods Ltd and Wild Tastes Ltd both supply premium, specialist products to the foodservice sector and speciality retailers across Scotland.
The latest acquisitions for Fine Food owners Allan Currie and Stuart Robinson, who have invested in a number of companies in the food and drink sector, including coffee roasting and bakery businesses, is supported by funding from Clydesdale Bank.
Clarks Speciality Foods was formed in 1993 and sells cheeses, chocolate and charcuterie to some of the country's top hotels, restaurants and delicatessens. Wild Tastes, which differs from Clarks' pre-order and delivery model, sell its cheese, deli, seasonal game and other fresh produce direct from a refrigerated van to kitchens.
Together, the companies have about 35 employees and a fleet of 10 vehicles.
Fine Foods Chairman Stuart Robinson said: "The products and services they [Clarks and Wild Taste] provide complement our other high-end food and drinks companies.
"Both companies enjoy strong reputations among Scotland's top restaurants, hotels and other food outlets.
"As well as increasing our product offering and workforce, these acquisitions also expand our geographical reach in Scotland. Although Clarks is based outside of Edinburgh and Wild Taste is in Glenrothes, they both serve restaurants up and down the country."
He added: "We're always on the lookout for opportunities to expand the business further, primarily through acquisitions, and we look forward to working with Clydesdale Bank to continue our growth."