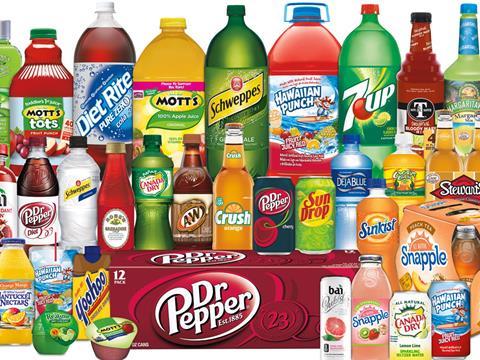 A flurry of sizeable food and drink deals in the first weeks of 2018 is building on the momentum of last year, which saw a sharp spike in values driven by mega-deals involving FTSE 100 giants Tesco, Reckitt Benckiser and Unilever, according to the latest quarterly M&A report by Grant Thornton.

JAB Holding this week swallowed Dr Pepper Snapple for almost $19bn (£13.5bn) in the biggest-ever soft drinks acquisition.

The Luxembourg-based investment vehicle will merge the US soft drinks giant behind brands such as Dr Pepper, 7-Up, Snapple, Sunkist and Canada Dry with its own Keurig Green Mountain coffee business to create a hot and cold beverage group with annual revenues of about $11bn (£7.8bn).

Earlier in January, Bacardi took full control of fast-growing tequila brand Patrón in a $5.1bn (£3.65bn) deal, and Nomad Foods snapped up Goodfella's Pizza for €225m (£199m).

The quarterly Bite Size M&A showed 48 deals in the final quarter of 2017 - involving a UK/Irish acquirer and/or target - pushed up the annual total to 206 compared with 202 in 2016.

Unilever's £6bn spreads sale to KKR, McCormick's acquisition of Reckitt's food division for £3.2bn, the £1.4bn sale of Weetabix to Post and the £3.7bn merger of Tesco and Booker contributed to deal values soaring to £21.bn in 2017.

The total, which doesn't include December's $1.6bn Hershey takeover of Amplify or the $4.9bn purchase of Snyder's-Lance by Campbell, was significantly higher than £8.4bn in 2016 and £10.8bn in 2015 (excluding the £71bn AB InBev/SAB Miller deal). Excluding deals over £1bn, the total value for 2017 comes to £6.2bn, another increase on 2016's £4.3bn.
Political instability drove a high level of cross border deal activity, involving a number of European and US firms acquiring UK brands, during the year, said Trefor Griffith, head of food and beverage at Grant Thornton.

"Brexit has worked as a catalyst to drive up the appetite of overseas buyers," he added. "For European investors, guarding or establishing a UK presence has been key; owning a British brand may well ward off the effects of any unfavourable legislation once Britain leaves the Union. UK assets are also around 20% cheaper after the post-referendum currency swing so this has also heightened interest and activity."

Griffith said 2017's trends would show no sign of slowing in 2018. "Businesses in the health & wellbeing space, as well as those that meet consumers' demand for more convenient and premium products, will continue to drive M&A."

He highlighted Graze as a key deal to watch in 2018 after private equity owner Carlyle hired advisors last year to explore a £300m sale of the healthy snacking brand.

Other deals in the pipeline included a potential merger between Burton's Foods and Fox's Biscuits, and ownership changes for Young's Seafood.

"A further catalyst for M&A recently has been the significant level of change in chief executives at the helm of some of the biggest groups in the sector," Griffith added.

"From Nestle at the start of 2017, General Mills in June and Kellogg and Mondelez in the autumn, this new blood will undoubtedly mean new strategies for growth and investment, alongside a review of portfolios and heritage businesses."