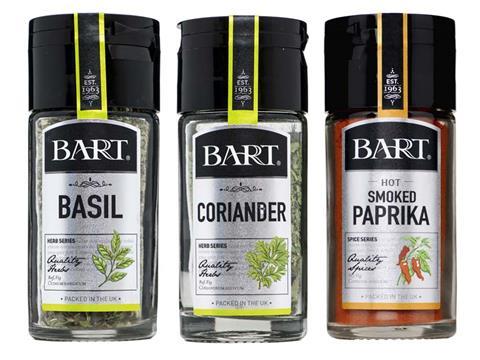 Bart Ingredients has been acquired by Germany's largest spice producer for an undisclosed fee.
Fuchs Group has taken over the herbs and spices maker from private equity firm Langholm Capital, which has owned Bart since a MBO 2010.
Bristol-based The Bart Ingredients Company was founded in 1963 by Reg and Jo Bartlam and is today the UK's second largest herbs and spice company.
It specialises in the production of branded herbs, spices, seasonings, home baking, sauces and pastes, as well as private label products for supermarkets.
"We have admired Fuchs' leadership in our industry and believe that our strategies are totally aligned," said Barts CEO David Collard. "We look forward to developing our business as part of The Fuchs Group."
Fuchs, which employs 2,800 staff in eight countries on four continents, is Germany's largest spice and herbs producer, with a range of more than 7,000 products.
"The acquisition of Bart Ingredients complements our existing portfolio of businesses and secures more market coverage in line with our growth strategy," said Fuchs CEO Nils Meyer-Pries.
"In our discussions with Bart Ingredients it is clear that the philosophies and people of both companies are well matched."
UK law firm TLT advised Bart on the deal.
Losses widened at Bart Ingredients in the year to 31 March 2016 despite another year of double-digit sales growth, the latest available accounts at Companies House showed. Revenues climbed 22% to £22.6m, compared with a 28% jump in the previous 12 months, thanks to distribution growth for the Bart brand in Waitrose, Sainsbury's and Asda, as well as its own-label offering.
Underlying profits more than doubled to £483k but pre-tax losses increased slightly from £476k to £551k after restructuring costs of almost £400k.
Bart was dragged into the red in 2014/15 as a result of the acquisition of loss-making wet herbs and spices business OTP Foods.