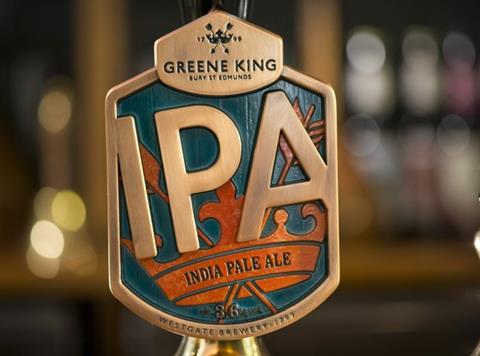 Pub chain and brewer Greene King (GNK) has agreed a £2.7bn takeover by a Hong-Kong listed international conglomerate CK Asset Holdings.
Greene King and CK Asset Holdings subsidiary CK Bidco announced today they have agreed terms of a 850p per share deal.
The sale price represents a premium of 51% on Friday's closing price of 563p, valuing Greene King at £2.7bn and at £4.6bn on an enterprise value basis.
Greene King shares have surged 51% on the news to 850p.
CK Bidco said Greene King benefits from an "established position in the United Kingdom pub and brewing market; freehold and long leasehold backed property estate and resilient financial profile."
It added that it believes it has "the financial resources to invest capital in new initiatives, where appropriate, to improve the sustainability, profitability and competitiveness of Greene King".
CK Bidco's parent group, CKA Group already has a portfolio of freehold pubs in the UK, which has been leased to Greene King since 2016.
Philip Yea, chairman of Greene King, said: "The Greene King board is confident in the long term prospects of the business but believes this offer represents a good opportunity for shareholders to realise value for their investment at an attractive premium, while also ensuring the future success of Greene King for employees, partners, customers and suppliers.
"We are therefore unanimously recommending it to our shareholders."
George Colin Magnus, chairman of CK Bidco, said: "CKA's strategy is to look for businesses with stable and resilient characteristics and strong cash flow generating capabilities. The UK pub and brewing sector shares these characteristics and we believe that this sector will continue to be an important part of British culture and the eating and drinking out market in the long run. Greene King, being a leading integrated pub retailer and brewer with strong real estate backing, is well positioned to capture the opportunities that lie ahead.
"We are proud of our track record in the UK and our philosophy is to support strong management teams and provide investee companies with access to patient capital in order to create sustainable long-term value."
Gerald Ma, general manager, corporate business development Department of CKA added: "We share the strategy which Greene King has set out in its recent results announcement, that is to focus efforts on developing the brand, enhancing the service offering, training and retaining talent, executing an active estate management strategy, and all under a prudent financial management policy."
Earlier this year Greene King was linked to a sale of its brewing arm, after pub rival Fuller's sold its beer brands to Asahi for £250m in January.
CK Asset Holdings was founded by Hong Kong's richest man Li Ka-shing, with the property investment firm owning a raft of assets across hotels, infrastructure, utilities and aircraft leasing.