Protein bar maker Grenade has rocketed from sports nutrition brand to mainstream giant – and is now heading for its third sale
Bang on trend, sales of protein brand Grenade are booming, and a raft of consumer goods giants are expected to come knocking after private equity owner Lion Capital appointed Harris Williams to explore a potential multimillion-pound sale of the brand, just two years after acquiring a majority stake.

Grenade has already generated plenty of City interest in its short life, having first been acquired by Grovepoint Capital in 2014 for £35m, and then by Lion in 2017 for more than double that valuation at £72m.

But a trade sale looks inevitable as fmcg players look to update their portfolios.

The numbers are impressive. An expanding range and listings in all the major UK retailers means revenues of £40m are expected for 2018.

On protein bars alone, Grenade is now the number one brand in the UK, worth £23.4m and growing at 101% year on year [IRI 52 w/e 14 July]. And Grenade's hero range Carb Killa is outselling all other chocolate bar brands in the UK, except for Cadbury's Darkmilk [IRI Marketplace 12 w/e 14 July].

All this growth adds up to a hefty price tag.

City sources told The Grocer they expect Grenade to command a price of around five times its current annual sales, potentially valuing it at £200m.

One caveat is the more-sober-than-hoped-for valuation of snack bar Graze in its £150m sale to Unilever earlier this year, which also attracted interest from Kellogg's. Former owner Carlyle had initially eyed a selling price of around £300m - more than four times its annual sales of £71.8m - before settling for the lower sum in a tricky market for selling UK assets.

However, Graze's sales growth had stalled as the sales process took off, while Grenade is continuing to post double-digit rises in annual revenues.

So how has a brand that started selling fat-burning pills to gym buffs managed to become the leading force in the sports nutrition and confectionery sector?

Brand positioning was key, says Vita Coco CEO Giles Brook. "Grenade has really done well in positioning itself not just as sports nutrition but as a lifestyle brand, becoming much more accessible for consumers."

And not just the die-hard gym bunnies upping their protein intake, but everyday consumers increasingly on the lookout for healthier alternatives to chocolate bars.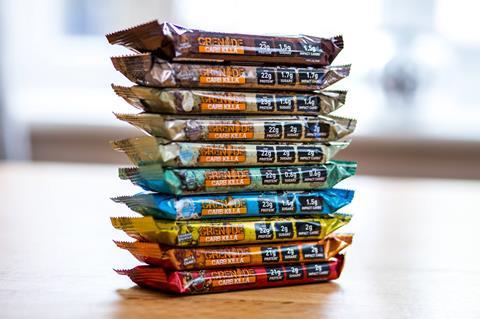 Mainstream
Grenade has certainly focused significant energies and investment into tapping the mainstream confectionery aisles by expanding its product range with the inclusion of healthy shakes, spreads and biscuits - all featuring indulgent flavours like Birthday Cake, Hazel Nutter and White Chocolate Cookie.

"Our goal was to create products that people would actively seek out and remember," says Alan Barratt, Grenade's co-founder and CEO. "We've worked hard to challenge the stereotypes of nutrition products in the fitness industry and beyond."

A good balance between the science of sports nutrition and a focus on taste did the rest, separating Grenade from the herd, according to head of client engagement at MMR Research Adam Curtis.

"Grenade's taste delivery is far superior to the bulk of its competitors," he explains. "The balance between the functional delivery of product versus the more emotive side of the brand is what makes them stand out from competitors such as Fulfil, which are more of a taste-led proposition, and the more traditional nutrition-type products which are more on the scientific side."
"Our goal was to create products people would actively seek out"
Barratt adds: "Taste has been, and always will be, a critically important sales driver, but consumers are also expecting great-tasting food to deliver in terms of health. Simply put, if a product doesn't taste good, shoppers won't return to buy it and taste is something Grenade does not compromise on."
By providing over 20g of protein per 60g bar with a maximum of 2g of sugar, the range distanced itself from being a pure protein play.

Grenade's tasty products are now likely to whet the appetites of several big players in the global chocolate and confectionery sector. Multinational brands "anxious about the fact that traditional chocolate and confectionery is likely to become less attractive to consumers" are likely to run the rule over the brand, one City source tells The Grocer.

Global confectionery players such as Mondelez, Hershey, Mars, Lotus and Ferrero would all be "good buyers" for Grenade, the source adds. Other potential parties might include companies that have shown interest in healthy snacking in general, such as Kellogg's, General Mills and PepsiCo, as well as sports nutrition-focused firms like Glanbia.

The brand could represent a "great addition" to one of the big confectionery players' portfolios, "particularly anybody who doesn't have a good representation in sports nutrition" according to Vita Coco's Brook.

Furthermore, the right trade buyer can super-charge Grenade's international growth prospects as it seeks to become, according to Barratt, a "true global brand".

Grenade has already drawn up plans to target growth in Europe, North America and the UAE, while a lineup of new product launches will help the company continue to disrupt in the UK.

A City source agrees, stating Grenade still has a significant opportunity to keep expanding in the UK where there are "massive distribution uplifts" to reach more mainstream aisles.

"The aim is to exceed this growth and continue to dominate in the confectionery market, supported by aggressive marketing, exciting new product development and continued investment in the team," says Barratt.

After finding himself with just £27 in the bank in the early days of Grenade's launch back in 2010, Barratt's success is already bomb-proof. The next stage of the story looks set to play out on a global scale.