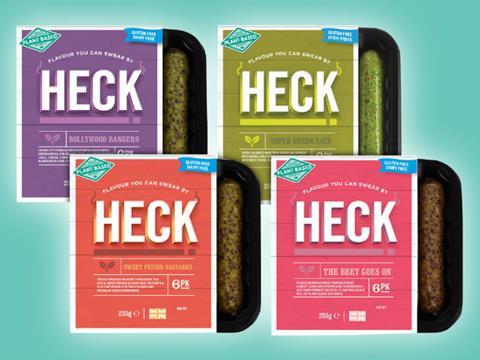 Dealmaking has been put on ice as the industry battles supply chain shortages and spiking inflation, with the differing valuation expectation between buyers and sellers causing a number of processes to stall.
The uncertainty around ongoing pricing negotiations with retailers, availability of labour and difficulties sourcing packaging have led to buyers becoming more cautious, according to senior City dealmakers.
Rapidly growing brands such as Heck, The Skinny Food Co and Muscle Food all pulled the plug on attempts to sell in recent weeks after struggling to achieve the price wanted by the owners. Cake supplier Bright Blue Foods and 2 Sisters, with its bakery division, have also struggled to get deals over the line.
"Most of these deals went on hold due to higher price expectations from the vendors," a City source said. "The earnings profile on most was due to improve considerably over the next 12 months and some purchasers were not ready to pay for this future value. It makes sense as the current wave of cost increases will cause a number of these businesses to struggle to sustain the EBITDA levels they had in the first half of 2021, so those valuations may be hard to recover, let alone improve.
"They each remain interesting operations in their respective segments, but valuations may have normalised a little."
This month, Grant Thornton flagged in its quarterly deal report that mounting headwinds were constraining dealmaking, with transactions in Q3 flat versus the prior three months at 32.
It comes after deal volumes came back strongly in summer 2020 after the initial lockdown and spilled over into 2021, with 63 deals announced in Q1 – the largest quarterly number since 2017.
One dealmaker said it was difficult to come up with a baseline performance of a business until it had contracted next year's costs and agreed customer prices.
"Once that is finalised, deals can get done," he said. "There are so many businesses that are only part way through recovering the current wave of inflation and working out what they can and can't supply. Businesses are in a holding pattern."
Another City source added: "You don't want to look silly by overpaying for an asset that suddenly has a huge problem because of time lag on pricing or labour issues. It is shifting sands under the feet of food manufacturers at the moment and doing deals on shifting sands is very tough."
The fundamental needs for consolidation in the F&D industry are still present, with mountains of dry powder on balance sheets and in PE funds to be put to work, the dealmaker said.
"However, in the short-term, the environment for dealmaking is poor," he added. "There are so many different imponderables around the supply chain, whether it is labour, inflation, price recovery from supermarkets, and it difficult to predict how the next six months will go. M&A will possibly hibernate over winter – where there is also still a touch of worry over Covid – and wake back up in spring."
A third City source warned there was more volatility still to come, so businesses needed to have a good handle on the next 18 months cashflow and have a strong headroom in their banking facilities.
"The labour shortage will only get worse, supply chain shortages will take a while to short out and consumers will still be wanting everyday low prices. You won't get a lot of help from the market, so you better have good funding headroom to survive this."