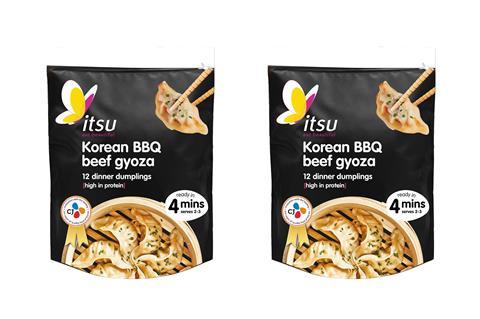 Asian-inspired brand Itsu has sold a significant minority stake to PE firm Bridgepoint as sales of its grocery brand soars in supermarkets.
It reunites Itsu founder Julian Metcalfe and Bridgepoint following a previous partnership on Pret a Manger.
As part of the latest deal – which reportedly values Itsu at £100m – Bridgepoint will also provide "substantial" investment to add up to 100 new sites to its 74-strong portfolio of restaurants, creating 2,000 jobs in the UK within the next five years.
It comes amid 70% growth at the Itsu Grocery division selling its products across the UK supermarkets and health food shops. Itsu partnered with Gok Wan in February this year for its first TV advert following sales of the grocery brand surpassing the £20m mark last year, a 59% increase on 2019.
In June, Itsu revealed it was expanding into the chilled category for the first time with a trio of food-to-go products.
Total revenues for the group in 2022 are forecast to be well in excess of £170m. However, accounts for the latest financial periods covering 2019 and 2020 have yet to be filed at Companies House.
The Bridgepoint deal signals a remarkable turnaround for Itsu, which was forced into a restructuring process a year ago as the coronavirus pandemic took a toll on the hospitality and foodservice sector.
Itsu signed an agreement with its creditor for a CVA to help reduce its financial liabilities, which also saw the group close two UK outlets and secure rent cuts for its other sites.
Metcalfe said he was "thrilled" to be teaming up with Bridgepoint again after the success at Pret a Manger during "the dynamic 2008-2018 era".
Bridgepoint invested in Pret, which Metcalfe co-founded, in 2008 in a deal valuing the food-on-the-go chain at in excess of £360m before selling to JAB Holdings in 2018 in a deal worth £1.5bn.
"We've spent months in lockdown working with them [Bridgepoint] to ensure Itsu will be well-funded for long-term growth," Metcalfe added.
"Never before has enjoying healthy, nutritious food been so uppermost in customers minds."
Bridgepoint partner Benoit Alteirac said the investment firm saw "a global opportunity" for Itsu.
"Their standout offer is an exciting and contemporary attitude to healthy and nutritious food with nearly 40% of it being plant-based. Itsu combines affordable, convenient and fresh food with an outstanding operational model coupled with deep-rooted brand values. We recognize their time is now and their ambition, goals and purpose are so relevant in this post-pandemic era."
Itsu is currently building new restaurants in Reading, St Albans and Holborn, as well as in Belgium, and plans to roll out its digital kiosks across all sites to complement sushi robots and customer loyalty app.
Metcalfe said the restaurant sites were slowly getting back to pre-pandemic customer visits since lockdown restrictions eased.
"Outside London, we are already busier than before. It is so evident that customers value nutritious, fresh food more than ever. Very shortly we hope to reopen the remaining centrally located stores that have been closed since last September.
"The pandemic has caused chaos and so much suffering in our industry on top of the looming challenge of a severe shortage of young European chefs and huge food inflation. The truth is, despite these difficulties, Itsu's modern menu is keeping us busy and buoyant. It's an unexpected and very exciting time for us."