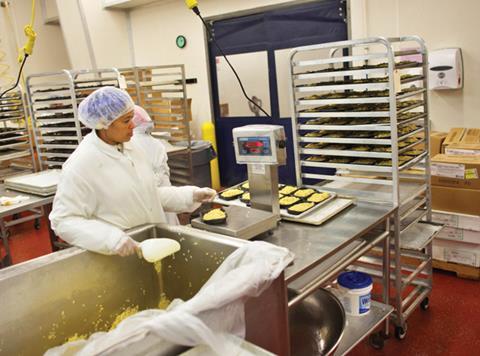 Greencore Group, the convenience food company that churns out more than 700m sandwiches a year in the UK, is selling its US business for £817m just two years after it launched a big transatlantic push (Financial Times). The FTSE 250 group, which acts as a contract manufacturer in the US to produce sandwiches, salads and desserts for restaurant and café chains such as Starbucks, will sell the unit to rival Hearthside Food Solutions. The supplier is to lose its crown as the world's biggest sandwich maker after striking a $1bn deal (Telegraph).
"A no-deal Brexit looks ever more likely, which could hamper imports of fresh ingredients and chill the market. Investors delivered their own verdict yesterday, sending the shares down 18½p, or 8.9 per cent, to 189p. Until Brexit uncertainties dispel Greencore is one to sell," writes Simon Duke in The Times (£).
Boxes of Iceland mince pies have made a low-key debut in Selfridges' food halls this year, sharing the aisles with £1,450 tins of beluga caviar and £5,000 Christmas hampers (The Guardian). The unusual collaboration between the upmarket department store and the frozen food specialist is on sustainability grounds, as both retailers seek to boost their environmental credentials by committing to removing palm oil from their own-brand ranges.
The former chairman of Tesco has told a court about the moment when he learnt of a report suggesting the supermarket chain had improperly recognised millions of pounds of commercial income before it was earned (Financial Times). The trial continues.
Trouble is brewing for the world's beer drinkers, with climate change set to cause "dramatic" price spikes and supply shortages, according to new research (The Guardian). Extreme heatwaves and droughts will increasingly damage the global barley crop, meaning a common ingredient of the world's favourite alcoholic beverage will become scarcer. Key brewing nations are forecast to be among the worst hit, including Belgium, the Czech Republic and Ireland.
Seaweed diets, anti-methane vaccines and selective breeding are being tested as ways to lower the methane emissions produced by dairy and beef farming, as farmers face increasing pressure to tackle climate change (Financial Times).
Shoppers using chip and PIN cards in shops have been eclipsed by those paying by tap-and-go technology for the first time, data shows (Telegraph). Until now chip-and PIN cards have been the most common way to pay in stores but now time-saving contactless technology has taken over.
The chief executive of Patisserie Holdings has resigned from the Mayor of London's business advisory board and as a non-executive director of the Restaurant Group amid the fallout from last week's accounting scandal (The Times £). The under-fire chief executive of Patisserie Valerie has quit as a non-executive of one of Britain's biggest listed dining groups (Telegraph, Daily Mail). Paul May will step down from the board of the Restaurant Group with immediate effect, it announced on Monday morning.
Sears, the US department store chain that filed for bankruptcy on Monday, has urged its creditors and suppliers not to throw the once-dominant company into the "dustbin of history" as it races to avoid an outright liquidation (Financial Times). About 68,000 jobs are in jeopardy as the retailer, a byword of suburban consumerism for generations of Americans, battles to emerge from Chapter 11 and stay in business as a smaller entity (The Guardian, The Times £).
The boss of Grant Thornton has quit – just days after the firm was slammed for missing a £40million black hole at Patisserie Valerie (Daily Mail). Sacha Romanovitch's resignation is unexpected and comes days after she vowed to stay on at the accountancy group.