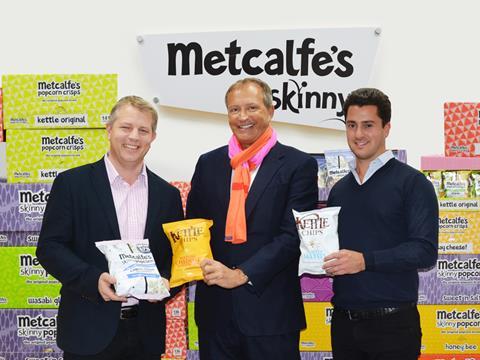 Metcalfe's Skinny popcorn co-founder Julian Metcalfe is hoping the backing of Kettle Chips will help the popcorn brand win more listings in the UK and expand further in Europe.

Kettle's US owner, Diamond Foods, this week snapped up a 26% stake in Metcalfe's, as revealed by The Grocer earlier this week, in a deal thought to be worth more than £3m.

Metcalfe, who also founded Pret a Manger and Itsu, launched Skinny in 2009 with Robert Jakobi. He said the investment was about contacts, experience and giving retailers the confidence for bigger listings. "A lot of the supermarkets are still dipping their toe in the water in popcorn. Consumers increasingly want to snack lighter so soaring demand is only going to grow further."

The popularity of popcorn has exploded in past three years to become the fastest growing subcategory in bagged snacks, with the UK market now worth more than £100m, according to IRI data. Metcalfe's Skinny UK retail sales hit £10.7m in 2015 thanks to year-on-year growth of 67.4% [Nielson 52 w/e 26 September].

As well as listings with the multiples in the UK, Metcalfe's is also available in France, Belgium and Spain, with ambitions to expand further across the Continent.

Kettle Chips UK MD Ashley said: "We are very excited to acquire an interest in Metcalfe's Skinny, which is an incredibly innovative, fast-growing, premium brand appealing to 'foodie' consumers looking for lighter great tasting snacks."

The Grocer reported last May that the demerger of Metcalfe's Skinny from high-end Asian brand Itsu Grocery was set to generate a flurry of bids.