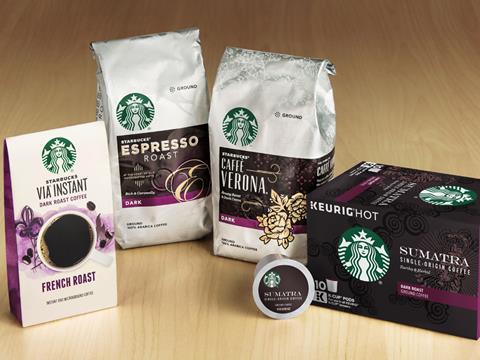 Big things are brewing in the coffee world - with Nescafé and Nespresso owner Nestlé this week forming a 'global coffee alliance' with Starbucks.

Under an agreement announced on Monday (7 May), Nestlé will pay $7.15bn (£5.3bn) for a 'perpetual licence' to sell Starbucks products outside the coffee chain's stores.
Starbucks deal
Under the agreement, Nestlé will market, sell, and distribute Starbucks, Seattle's Best Coffee, Starbucks Reserve, Teavana, Starbucks VIA and Torrefazione Italia packaged coffee and tea in all global at-home and away-from-home channels, while Starbucks will "lead in sourcing, roasting and Starbucks global brand management".
The agreement excludes Starbucks ready-to-drink products and sales of any products within Starbucks coffee shops.
Approximately 500 Starbucks employees will transfer to Nestlé. However, operations will continue to be located in Seattle.
The agreement is subject to customary regulatory approval and is expected to close by the end of 2018.
That's a big chunk of change for what is essentially a licensing deal - with no fixed assets included - but Nestlé insists it makes financial sense. So what's in it for the Swiss food giant? And what impact will it have on the UK coffee market?

Nestlé is acquiring a business with annual sales of $2bn, and big growth potential, according to CEO Mark Schneider. Analysts agree there is "huge" potential for the Swiss food giant to use its global distribution strength to leverage the rising popularity of the Starbucks brand in markets such as China.

Even more significantly, most of the existing business is in North America, where Nestlé has until now struggled to compete with German arch rival JAB Holdings, which owns high-end US coffee brands Keurig, Peet's and Stumptown. "The immediate commercial benefit of the deal is that it puts NESN in the driving seat in retail Roast & Ground (R&G) coffee in the US, where Starbucks has a leading 30% share, ahead of JAB Group on 12%," says Martin Deboo, equity analyst at Jeffries.

The timing of the deal also couldn't be more perfect given recent moves by JAB Holdings to acquire Dr Pepper Snapple Group for $18.7bn. However, Nestlé insists the agreement is a "not a short-term defensive reaction" but a long-awaited union of two coffee companies with a shared outlook when it comes to sustainability and innovation.

Nestlé even plans to continue selling Starbucks pods for Keurig's K-Cup machines, as well as developing products for its own Nespresso and Nescafé Dolce Gusto platforms. It means JAB will have an "arch rival" trading on its own platform, says Deboo. "One must hope mutual self-interest prevails over mutually assured destruction."

However, Nestlé says it is committed to "increasing choice to consumers" by allowing them to enjoy Starbucks coffee on a number of systems.

Increased choice will likely be the biggest change for UK shoppers, with plans to sell the Starbucks range of "premium R&G, portioned and soluble coffee" in all channels, "including retail and e-commerce", a Nestle spokeswoman confirms. To avoid "confusion", Starbucks-branded Nespresso pods won't be available through Nespresso club or Nespresso boutiques.

At the moment, there are only 10 Starbucks coffee SKUs on shelves in the mults [Brand View 9 May 2018] including ground coffee, beans and 'third party' Nespresso compatible pods. These are currently manufactured by Starbucks EMEA - which has been headquartered in London since 2014. Whether that will change when the agreement closes at the end of 2018 is unclear. Starbucks says it will "retain a significant stake" as a "supplier of R&G and other products going forward", suggesting it might still play a big role in manufacturing. Nestlé says it's "too early to confirm" exactly what will happen, but for now it will be "business as usual", with no immediate changes.

The other half of Starbucks' existing supermarket lineup is ready-to-drink coffee products, which are excluded from the Nestlé deal and have been manufactured by Arla in Europe since 2010. Nestlé also sells RTD products under its own brands, but Schneider told investors this "overlap" - and the fact that Nestlé recently acquired a 67% stake in US coffee shop chain Blue Bottle Coffee - will be "tolerated" by the two businesses.

Nestlé has paid a hefty price for its historical neglect of the R&G segment, which makes up 60% of the US and 45% of the European market, according to Euromonitor. But with this new alliance, it will undoubtedly be a force to be reckoned with on both sides of the pond.