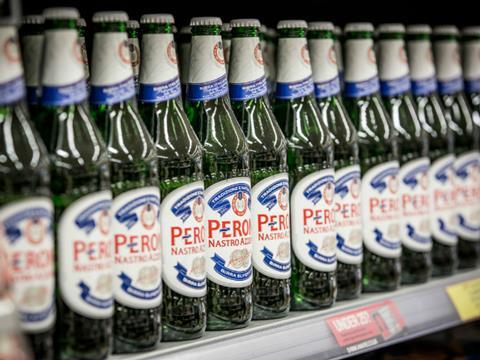 Big brewers should be licking their lips at the prospect of valuable, growing brands falling from the table of the AB InBev and SAB Miller mega-merger. Getting hold of Peroni, Grolsch and Meantime would go some way to stopping the rot at Carlsberg UK, for instance.

The Grocer highlighted the dominance in the UK premium market that a combined SAB InBev would create - with its 'Magnificent Seven' brands - in October. Whether European competition authorities would have allowed a premium lager stranglehold is moot. That AB InBev is exploring options to sell three of SAB's gems shows the Stella, Becks and Budweiser brewer had no intention of even taking up the fight.

This £68bn deal is far more important to AB InBev CEO Carlos Brito than three comparatively small brands (when viewed against a combined market value of £177bn, revenues of £43bn and a 30% world market share). Brito's end game is realising massive synergies and driving sales in emerging markets in Latin America, Africa and Asia where AB InBev is underrepresented.

But the sale of these brands is still a potentially big deal for other players, with the power to transform the fortunes of Carlsberg, for example. Peroni in particular is a hot property. The fastest growing premium lager brand in the UK and a genuine world beer, with a presence in many markets. Meantime there's Meantime. When it was sold, just six months ago, it had craft beer fans in a froth. Could it go solo? Will private equity be interested? Might the crowd be a source of funding?