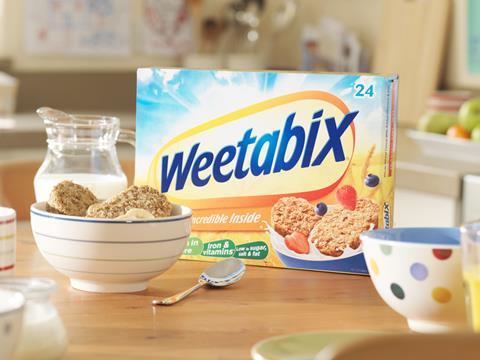 With Post Holdings' £1.4bn buyout of Weetabix finalised this week, another UK fmcg brand has been snapped up by an international buyer.

Admittedly it's from a Chinese seller, and it comes amid wider concern that the weak pound will potentially trigger cheap sell-offs of British assets.

But nevertheless it signals a strong show of faith in post-Brexit Britain. Weetabix may have struggled to win over Chinese consumers, but it's still at heart a fundamentally British company with growing international sales rather than an international company that happens to be based in Britain.
Buying Weetabix is a firmer statement of belief in its core UK business than international buyouts of SAB Miller or Unilever could ever be.
While true that Weetabix is mired in a declining category, unlike many of its traditional breakfast rivals Weetabix maintains a healthy profile and has been able to exploit new pockets of growth – notably its On The Go breakfast drinks lines.
The UK still constitutes around two thirds of Weetabix's sales and Post's backing suggests it retains faith the brand can continue to outperform in this shrinking category domestically.
Weetabix does have a presence in the similarly under-pressure category in North America – mostly under the Barbara's brand - but its £80m of annual sales is a drop in the ocean to Post and a major rollout of Weetabix brands in the region is not on the menu.
Obviously Post will look to grow its international sales and the US Group's bigger global infrastructure footprint will help underpin that aim. Where it lacks that footprint, it has pledged to enter into a joint venture with Bright Foods to build on the former owner's local relationships and expertise.
But the deal is more driven by Post diversifying and gaining a strong UK brand which will reliably add to its bottom line straight away (approximately £120m a year before cost synergies) than relying on transformative international growth.
The bottom line contribution will be boosted by £20m of cost savings a year by the third year of ownership – these synergies are likely to be found internationally over time rather than within the core UK business where Weetabix recognises the need to invest in growth.
There is no doubt though that the post-Brexit plunge in the value of the pound has made UK assets relatively more attractive.
The c.11 times EBITDA price paid for Weetabix is not particularly unusual for an established food brand, but the relative price has changed.
In 2012 when Bright Foods bought 60% of Weetabix in a deal valuing it at £1.2bn, that transaction had a dollar value of US$1.95bn (at US$1.619 per pound). Although this deal is worth £200k more at £1.4bn, that deal value is now down to US$1.76bn (at US$1.259 per pound) - so Weetabix is $200k cheaper for Post than in 2012 despite being £200k more expensive.
Clearly Weetabix's UK sales and profits will be proportionately lower when translated to dollars too, but it does lessen the up-front cost of the takeover for an international buyer and that ongoing lower contribution from UK assets is only the case if the pound remains at its lowest level since the mid 1980s.
As The Grocer reported in March, Post was left as the only remaining viable buyer for Weetabix after rival suitors – including Nestlé and General Mills joint venture Cereal Partners Worldwide and Italian pasta group Barilla – dropped out of the running.
There were market whispers that Goldman Sachs, leading the sale process, was struggling to achieve the price Bright Foods had expected.
But £1.4bn looks a fair price for a strong brand primarily based in a solid consumer market (despite any Brexit jitters). The fall in the pound has made Weetabix less expensive for a US buyer, not cheap.
The underlying rationale for the deal looks convincing enough, based on sober projections of incremental growth. Just don't expect to see rows of Weetabix boxes lining shelves in Walmart any time soon.