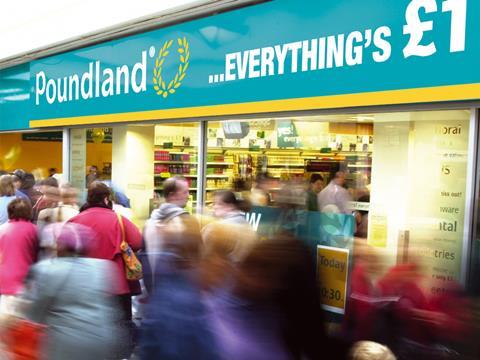 Poundland's £55m acquisition of rival discounter 99p Stores will face in-depth scrutiny from the Competition and Markets Authority after the group decided not to allay the watchdog's monopoly fears.
The listed discount chain had until this week to offer the CMA undertakings – such as selling stores – to allow the deal smooth passage after the regulator voiced initial concerns for areas where Poundland and 99p Stores currently overlap.
In a statement to the London Stock Exchange, Poundland said after "careful consideration" it had decided not to offer any remedies.
The CMA responded that it would now start an in-depth merger investigation to decide if the merger raised "substantial" competition problems.
Poundland has asked for a standard three-week suspension before the start of the phase II review so it can decide whether or not to walk away from a merger which would add 251 stores to its estate at a stroke.
"During this period, Poundland will continue to consider carefully whether to proceed with a phase II review or to withdraw from the proposed transaction," the statement added.
Earlier this month, the CMA said its initial investigation found the transaction gave rise to a "realistic prospect of a substantial lessening of competition" in 80 local areas where the companies currently overlap and 12 locations where they will overlap in the near future. The UK competition regulated added: "Without competition from 99p Stores, there is the possibility that Poundland may have the incentive and ability to deteriorate its offer in these areas to the disadvantage of customers that have come to rely on their offer."
Clive Black of Shore Capital, Poundland's house broker, issued a sternly worded note at the time savaging the CMA's decision. "If the situation wasn't so serious it would be funny," he said.
Black added today that ShoreCap could not hide its "dismay" with the CMA's phase I review. "Shore Capital firmly believes that Poundland is an excellent retailer offering a much more potent and high quality offer to customers than that offered by 99p.
"As such we see scope for considerable customer benefit from the acquisition of 99p, a view that underscores our surprise and disappointment at the nature and extent of the CMA's phase I decision."
If the second phase of the investigation goes ahead, it will take the CMA up to six months to reach its decision, with a final date of 2 October.
Shares in Poundland (PLND), which took a nose dive following the initial decision on 9 April (from 360p to lows of 323p), fell again on the back of today's announcement. The retailer's stock is currently 1.4% below today's opening price at 336.3p.