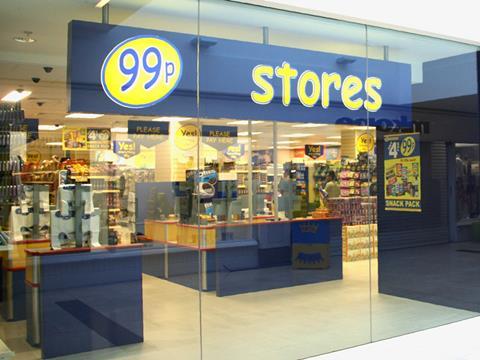 Poundland (PLND) has decided to press on with its attempt to acquire rival discount chain 99p Stores and go to a more in-depth investigation process by the UK's Competition and Markets Authority.
Poundland had asked for three weeks to decide whether to press on with the acquisition and the CMA's "phase two" investigation or to walk away after it informed the CMA it would not be providing any immediate remedies to its concerns over the deal.
The fixed-price discounter stated today: "Poundland remains confident that the combination of the two businesses will provide better choice, value and service for 99p Stores' customers and represents a great deal for all stakeholders in both businesses."
Chief executive Jim McCarthy added: "We look forward to working with the CMA in Phase II in order to ensure that we can deliver an improvement in choice, value and service for 99p Stores' customers."
Last month the CMA voiced concern that there were a number of areas where Poundland and 99p Stores currently overlap and it could reduce consumer choice in these locations.
The CMA's initial investigation found a "realistic prospect of a substantial lessening of competition" in 80 local areas where the companies currently overlap and 12 locations where they will overlap in the near future.
It added: "Without competition from 99p Stores, there is the possibility that Poundland may have the incentive and ability to deteriorate its offer in these areas to the disadvantage of customers that have come to rely on their offer."
Darren Shirley, analyst at house broker Shore Capital, commented this morning: "We imagine that the staff and management of 99p Stores will be pleased and relieved to see Poundland's ongoing commitment to a combination that makes eminent sense to our minds. We firmly believe from a basis of extensive store visits and outline financial analysis that Poundland's brand and retail offer is significantly superior to that of 99p Stores in terms of its authority, consistency, product quality and price value credentials, alongside superior store standards."
"We believe that the Phase II review permits these credentials to clearly emerge something that we believe will also motivate Poundland's team."