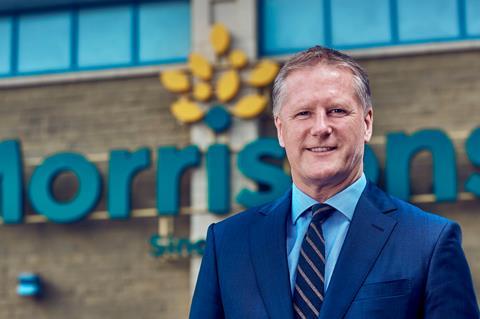 Private equity giants circling Asda are working with headhunters to put together a potential board for the retailer ahead of a possible £7bn deal, The Grocer has learned. Targets are thought to include Morrisons boss David Potts and retail veteran and M&S chairman Archie Norman.
Walmart announced at the end of February it was in talks with multiple potential suitors over a sale of a majority stake of Asda.
Apollo Global Management, Lone Star Funds and TDR Capital, in a joint offer with forecourt operator EG Group, have all progressed to a second round of bidding on the supermarket chain, according to reports this week.
A deal could value Asda at more than £7bn, Bloomberg reported.
The three private equity funds are working with major recruitment firms to identify potential executives to sit on a new Asda board following a deal.
Targets include Morrisons CEO David Potts, M&S chairman Archie Norman (who famously turned Asda around in the 1990s), Ocado Solutions CEO Luke Jensen and Nick Beighton, CEO of online fashion retailer Asos, a City source familiar with talks told The Grocer.
The source added the PE houses were also keen to retain a number of the current Asda board, including CEO Roger Burnley and CFO Rob McWilliam.
"Bentonville is really pushing the deal," the source said. "They want Asda off the books ASAP, while keeping a minority stake. There is lots of activity around the deal at the moment. And recruitment firms are talking a lot about potential names for a new board.
"Some of the names are probably unrealistic. But it shows how fast a deal is progressing, as you don't talk about boards unless things are pretty serious."
However, another City dealmaker was sceptical whether a takeover was possible in the current uncertain climate caused by the coronavirus pandemic. The source said accessing funding for a deal of this size would prove very difficult as credit markets started to dry up.
"Active buyside deals are falling over left, right and centre at the moment thanks to the economic difficulties caused by coronavirus.
"There are lots just crumbling away because of the uncertainty and liquidity is just drying up," he added.
"There may be a desirability there from Walmart to get a deal over the line but that may not happen. Any deal with PE houses will be heavily debt-funded. And that makes it very difficult as there is so much uncertainty now, especially around consumer-facing businesses. It may put a spanner in the works."
He said: "Unless a deal is already well-advanced and is just going through the process of crossing Ts and dotting the Is, then I suspect it may not get over the line.
"There are lots of deals falling over now as confidence is stretched in every area. And, most importantly, the ability to access money has become much harder.
"Banks are concerned, generally, that any money they lend may not be paid back and there is the great unknown in terms of capital requirements that banks may need to help out with mortgage holidays or waiving interest payments on loans as the finances of individuals and businesses come under pressure."
Walmart was blocked by the CMA from selling Asda to Sainsbury's a year ago in a £7.3bn merger.
In May last year, Walmart CEO Judith McKenna revealed it was considering an IPO for Asda. This is still a possibility if a private deal does not happen, but would likely take years to achieve.