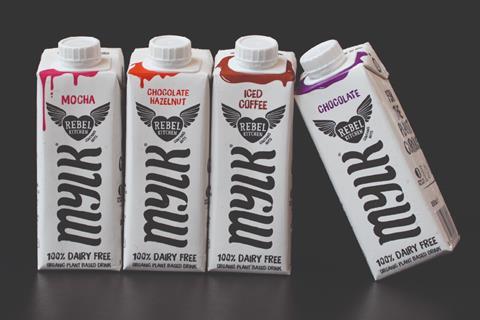 Alternative milk startup Rebel Kitchen is to merge with Nurture Brands amid plans to create the UK's leading plant-based snack and beverage business.
From January 2020, the Rebel Kitchen brand will join vegetable snack startup Emily Crisps and the coconut-focused Ape Snacks under the Nurture Brands portfolio.
Founded in March 2019 after the merger between Ape and Emily, Nurture aims to create a better-for-you, plant-based snacking business.
The company is wholly-owned by Rebel Kitchen owner and co-founder Ben Arbib, who purchased Ape in November 2018.
Arbib said he had decided it "made sense" to bring his two businesses together under one portfolio, as both "share a common desire to create healthier plant-based alternatives".
"In becoming one business, we are able to accelerate the growth of our brands whilst still delivering great-tasting products made with whole, plant-based ingredients, under an ethical business model," he added.
MD Adam Draper said Nurture Brands was "poised for strong growth" as it followed many of the "macro category trends in food and drink".
"Our brands resonate with consumers and we have a fantastic team who are passionate about driving our brands and the category forward in the UK and beyond."
Rebel Kitchen's range of plant-based milks and coconut water is currently listed in Planet Organic, Ocado, Waitrose and Whole Foods Market among others.
The brand has also just launched new milkshakes into its range of organic plant-based alternatives in four indulgent flavours - Chocolate, Mocha, Chocolate Hazelnut and Coffee.
The new 250ml 'Mylk Shakes' are made from a blend of organic, sustainable ingredients including coconut cream, Himalayan salt, brown rice, cashew and nutritional yeast.
Emily Crisps was founded in 2014 as a healthy alternative to traditional potato snacks. It is currently listed by Sainsbury's, Tesco and Waitrose.
Ape is listed in all major UK grocers including Tesco, Sainsbury's and Asda. The coconut snacks brand will be rolling out a full re-brand across packaging, in-store, online and social media from November.
The new branding and proposition will give Ape a "distinct identity, improve shelf-standout and more clearly communicate its role as a better-for-you snack", the company explained.