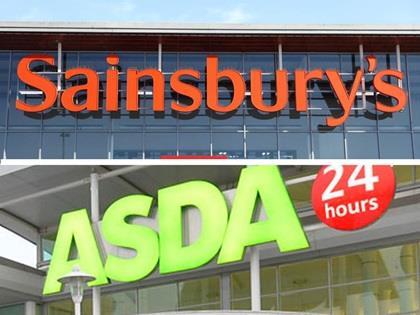 Top story
Sainsbury's (SBRY) shares have hit a new year-long low on the news that the UK Competition & Markets Authority has blocked its mega-merger with big four contemporary Asda.
The shares, which peaked at 341.8p last year in the aftermath of the announcement of the £12bn Asda merger, have sunk a further 6.1% to a new year-long low of 212.8p so far this morning.
The shares have lost 31% of their value over the past six months, wiping off over £2bn from its market value.
Although expected by the City after a unfavourable initial reaction from the CMA in February, the UK monopolies body this morning signalled the death knell for the deal with a damning final verdict on the merger.
The supermarkets abandoned their plans for a merger following the crushing final report by the competition authorities today, which concluded the plans would lead to rising prices and reduced quality for shoppers across the UK.
The CMA's final report found the merger would hike prices in stores, online and at many petrol stations should two of the biggest supermarkets be allowed to come together.
Afterwards Sainsbury's and Asda said they had mutually agreed to terminate the merger, with Sainsbury's boss Mike Coupe accusing the CMA of "taking £1 billion out of customers' pockets."
See the full story on the CMA's verdict here.
Morning update
Structural change continues to drive an ongoing fall in retail employment, according to the British Retail Consortium this morning.
Year-on-year total retail employment fell by 2.4% in Q1 2019, a higher reduction than the one of 2.2% seen in Q4 2018 as the growth of online sales and other technologies continues to hit traditional retail jobs.
This fall mirrors the downward trend in employment at the industry level shown by ONS data. Most recent ONS figures show a decline in employment of 2.1% in Q4 2018 and 2.9% in Q3 2018. However, this is in stark contrast with the UK economy as a whole which sees employment at the highest levels since ONS records began.
In Q1 2019, total hours were down 2.7% year-on-year, similar to the reduction of 2.8% of Q4 2018.
Some 17% of retailers indicated plans to reduce staff in the coming quarter, above the comparable figure of 13% last year, and 67% seek to keep their staff numbers unchanged (down from 75% last year).
BRC chief executive Helen Dickinson commented: "Yet again, the number of retail jobs fell during the first quarter of this year, with a 2.4% year on year fall in employees; this would be equivalent to losing 74,400 people across the retail industry. While the number of stores rose, this was mainly driven by an increase in small format stores, with many larger stores closing – resulting in a net job loss. And more jobs are likely to disappear unless there is a shift in Government policies.
"Retail is undergoing a period of unprecedented change in response to new technologies and changing consumer behaviour. The investment required to successfully navigate this transformation is being held back by the rising cost of public policy. Over three million people rely directly on the retail sector for jobs, with many more working throughout the supply chain. Yet spiralling business costs pose a grave threat to these jobs – as recent administrations, CVAs, and store closures show."
Elsewhere this morning, sausage casing producer Devro (DVO) has issued a trading update for the period 1 January 2019 to the current date ahead of its AGM this morning.
It said trading in the period was in line with the board's expectations, with momentum building through the quarter after a slower start to the year.
The group continues to see "good" trading in North America, South East Asia and China, offset by ongoing challenging conditions in Russia, Japan and Latin America.
"As previously indicated, we expect 2019 revenue growth to be H2 weighted, as it will benefit from the build in sales of Fine Ultra, as well as underlying market growth," the group stated.
"Our cost saving initiatives are on track and we are confident of being able to meet the previously outlined targets."
It announced back in November that Gerard Hoetmer will retire as chairman at the conclusion of today's Annual General Meeting.
It said the search for a new chairman is well advanced and the board anticipates an announcement will be made in the near future. Current senior independent director, Paul Withers, will serve as interim chairman from the conclusion of today's AGM until the new chairman is appointed.
On the markets this morning, the FTSE 100 has dropped another 0.6% to 7,426.4pts.
Risers include Stock Spirits (STCK), up 3.6% to 230p, Devro (DVO), up 2.9% to 193.1p and Premier Foods (PFD), up 1.2% to 35.7p.
Fallers include Ocado (OCDO), down 2.8% to 1,386p, Glanbia (GLB), down 2.3% to €16.26, Tesco (TSCO), down 1.8% to 247.1p and Morrisons (MRW), down 1.5% to 216.5p.
Yesterday in the City
The FTSE 100 fell back 0.7% to 7,471.8pts yesterday as global energy and resources stocks fell back.
One notable riser was Primark owner Associated British Foods (ABF), which rose 2% to 2,557p as its clothing retail operations continue to grow despite an overall 15% drop in first half pre-tax profits as the plunge in margins at its AB Sugar division hit overall performance once more.
The supermarkets did not have a good day, with the sector down ahead of the expected release of the CMA's report into the Sainsbury's and Asda merger this morning.
Sainsbury's fell back 1.7% to 470p, but Morrisons (MRW) was also down 1.8% to 219.9p and Tesco eased back 0.6% to 251.6p.
Tobacco stocks also fell yesterday as the US mulls plans to lift the minimum age for buying tobacco products to 21 from 18. British American Tobacco (BATS) lost 1.4% to 3,044p and Imperial Brands (IMB), fell back 1.2% to 2,448p.
Overall risers yesterday included Majestic WINE (WINE), up 5.3% with investors welcoming the news it is considering the sale of its retail estate, McBride (MCB), up 5% to 109.2p, PayPoint (PAY), up 2.5% to 990p, Greggs (GRG), up 1.8% to 1,850p, Finsbury Food Group (FIF), up 1.7% to 88p and Reckitt Benckiser (RB), up 1.7% to 6,041p.
Fallers yesterday included Glanbia (GLB), down 4.9% to €16.65, PureCircle (PURE), down 2.5% to 290p and Applegreen (APGN), down 1.7% to 470p.