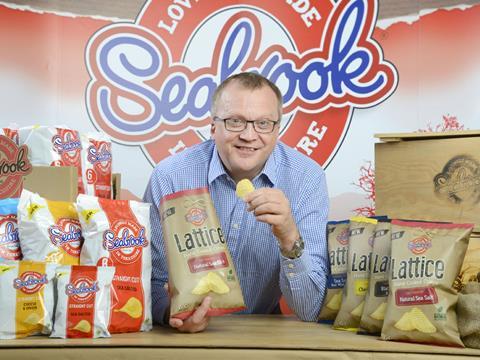 Seabrook Crips has this morning confirmed The Grocer's story that private equity house LDC has acquired a majority stake in the business.
The deal, which is thought to be worth £35m, sees the Lloyds-owned private equity firm support a management buyout, with the management team led by current chief executive Jonathan Bye.
The Grocer broke the news that LDC was set to finalise a deal to take a majority stake in Seabrook on Thursday.
The MBO also includes marketing director Kevin Butterworth, chief operating officer Daniel Woodwards and commercial director Jon Wood. The transaction also sees a complete exit by owner Ken Brook-Chrispin, who led a buyout of other family shareholders in 2006.
Established in 1945, Seabrook had previously been in family hands for the entirety of its 70-year history.
Bye commented: "LDC's support for the MBO of Seabrook Crisps is great news and will help us to not only deliver but accelerate our growth plan. It will enable us to invest both in our operations to drive further efficiencies and flexibility and to increase marketing investment to continue to build the brand's national profile.
"Importantly, this will drive the business forward with the same team that has put our winning brand strategy in place. As the main challenger brand in the category we wanted to keep momentum and the same culture and expertise that helped deliver our growth so far."
Seabrook said LDC would support it as it "looks to invest in its manufacturing infrastructure, new product development and develop the brand to realise its full potential."
As revealed by The Grocer, Seabrook appointed McQueen last year to explore a range of strategic options, including a sale or potential trade partnerships, in the search for external investment.
Ged Gould and Simon Braham of LDC will join the firm's board and a new chairman will be appointed "shortly". As a result of the deal non-exec director Julian Kynaston will leave the business.
LDC's Dale Alderson, who led the deal along with Gould and Braham, said: "Having established itself as an iconic food brand, Seabrook has set its sights firmly on accelerating its growth plans and taking further share in Europe's largest crisp market.
"Our financial, strategic and operational support will bolster a proven and skilled management team, which has already driven impressive growth in the business. We look forward to taking part in that journey and playing our part in bringing Seabrook's crisps to more households."
The deal follows LDC's recent commitment to pledge £1.2bn over the next three years to invest in the mid-sized UK companies.
Seabrook achieved retail sales of £33m over the past 12 months, according to Nielsen, and is currently growing year-on-year by 14.5%. The brand has outperformed the wider UK crisp market, which has grown at 4.2% (compound annual growth rate) since 2007 and is worth £1.1bn.
James Murray, corporate finance partner and head of consumer M&A at KPMG, advised LDC on the transaction. "Seabrook is a great business with a strong brand," he said. "LDC's investment will support the next phase of growth and represents and exciting new stage for management. This deal is part of the wider activity in the fast-evolving snacking sector where we expect further deals in the coming months as the growth in the category attracts new investors."
Seabrook's deal advisory team included Martin Jenkins from Deloitte (strategic advice), Food Strategy Associates (commercial due diligence), KPMG (financial due diligence), Sentio (management advice) and Walker Morris (legal advice). Charlie Barker and Mike Selina from Yorkshire Bank provided senior debt facilities to support the deal.
KPMG Corporate Finance advised LDC and Pinsent Masons provided legal advice.